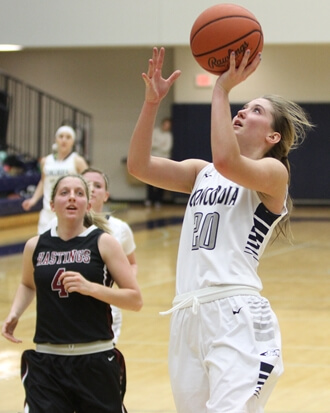 Dordt College upends Concordia, 71-61
Dordt College picked up a 71-61 women's basketball win over Concordia on Saturday evening in Seward. The Defenders moved to 11-5 overall and 2-4 in conference play with the victory. Concordia dropped to 9-8 overall and 2-5 in conference play.
Concordia took advantage of cold shooting by Dordt College to open the game. The Bulldogs built a 10-2 lead with just over 13 minutes remaining in the first half. However, a 17-6 run over the next few minutes gave Dordt a 19-16 lead with nine minutes in the opening half. Concordia rallied to reclaim a two point lead later in the half. Dordt again had an answer and took a 34-28 lead with just over a minute left in the half. A 3-pointer by Kristen Conahan (Omaha, Neb.) pulled Concordia within three (34-31) heading into halftime.
The Bulldogs struggled mightily from the field in the second half, and Dordt College took full advantage. The Defenders led for the entire second half and built their first double-digit lead (45-34) with just over 14 minutes in regulation. Concordia got no closer than nine the rest of the way, and Dordt built a lead as big as 16 on multiple occasions.
For the evening, Dordt was 24-of-53 (45.3 percent) from the field. The Defenders were 7-of-22 (31.8 percent) from long range and 16-of-19 (84.2 percent) at the charity stripe. Dordt held a 39-36 rebounding advantage and totaled 17 assists on their 24 made field goals.
Brianna Spronk and Julia DeKoekkoek each scored 17 for the Defenders. Jaimie Kok added 11 points off the bench, and Amber Soodsma had 10 points, eight assists and six rebounds for Dordt in the victory.
Concordia was just 19-of-61 (31.1 percent) from the field for the game. The Bulldogs were just 5-of-22 (22.7 percent) from deep and 18-of-21 (85.7 percent) at the foul line. Concordia had 16 turnovers but did come up with 10 steals in the contest.
Conahan scored 13 to lead Concordia offensively. Treva Nutter (Thedford, Neb.) and Katie Rich (Tilden, Neb.) added nine apiece.
Concordia travels to Nebraska Wesleyan on January 12. Tip is scheduled for 6 p.m. in Lincoln.