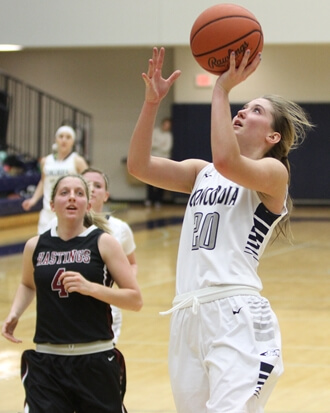 Dogs stifle Bryan, roll to second round of national tournament
SIOUX CITY, Iowa – Riding its unforgiving pressure defense, the third-ranked Concordia University women's basketball team crushed the painful memories of the previous two national tournament appearances. The Bulldogs stifled Bryan College in a 76-35 first-round victory at the 2015 NAIA Division II Women's Basketball National Championships in Sioux City, Iowa, on Thursday afternoon.
Head coach Drew Olson's squad moved to 32-2 overall. Making its 14th all-time national tournament appearance, Concordia bumped its record to 19-13 in 32 games on the national stage in program history.
"We talked about the pace of the game," Olson said of the team's strategy entering the contest. "We're a little more athletic and we have more depth. We wanted to get the game more up and down. I felt like we wore them down and were able to get easy baskets, especially in the second half. I wish we would have shot better, but I'm pretty pleased with how we played."
After a sluggish offensive start, Concordia ramped it up with a 19-2 flurry that staked the Bulldogs to 26-5 lead with just over six minutes remaining in the half. A miserable first half for the Lady Lions saw them shoot 12.1 percent (4-for-33) from the field, score just 11 points and turn it over nine times.
It didn't get any better for Bryan over the final 20 minutes. Bailey Morris capped a 9-0 run to begin the second half and Concordia emptied the bench early against the Appalachian Athletic Conference runner up.
In a contest in which no single Bulldog played more than 17 minutes, senior forward Jericca Pearson stood out in her sixth career game at the national tournament. She burned Bryan with a hellacious first-half block and finished with 10 points and eight rebounds. On the outside, Mary Janovich remained searing hot. She nailed all three attempts from long range and is now 17-for-27 from deep over the past eight games.
Though Concordia shot only 35.1 percent from the field, it got double figures in scoring from Janovich (13), Tracy Peitz (12), Brenleigh Daum (10) and Pearson (10). Morris, a two-time GPAC player of the year, chipped in eight points and five rebounds in her 17 minutes of action. All 15 Bulldogs saw time on the court with 11 registering in the scoring column.
Concordia entered the game with a combined 30 games of national tournament experience on its roster. On the other hand, Jason Smith's Lions were making the program's first-ever appearance in Sioux City.
Bryan, which shot 17.2 percent for the game, got 12 points and 11 rebounds from Kristin Lane. First team all-conference performer Megan Billingsby managed just three points while going 1-for-7 from the field.
"Offensively we didn't really change anything up," Peitz said. "I felt our defense really pressured the ball and they weren't used to that kind of pressure. That got them out of rhythm a lot."
With the win, Olson notched his eighth career national tournament win, tying Todd Voss for the most in Concordia women's basketball history. Olson's seven national tournament appearances are a record for Bulldog women's basketball coaches.
The Bulldogs were happy to put behind first-round national tournament losses that ended the past two seasons abruptly.
"Moving on, now that we put the first round to rest we can just go out and play," Olson said.
The Bulldogs have advanced to play familiar in-state foe and 14th-ranked College of Saint Mary (27-6). The Flames toppled No. 18 Huntington (Ind.), 63-54, in a matchup that occurred immediately prior to Concordia's game. Star post player Deaundra Young had 27 points and 19 rebounds in the win for College of Saint Mary.
The Bulldogs and Flames last met on Nov. 5, 2013, when Concordia came away with a 96-89 road win in Omaha.