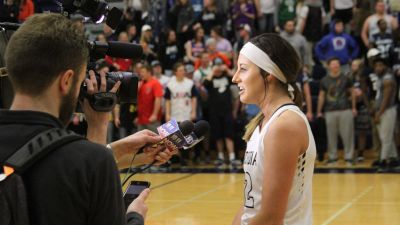 Even if everything breaks the way the Bulldogs want it to, the collegiate basketball career of Brenleigh Daum will come to an end by about 9 p.m. on Tuesday night. Between now and then, Brenleigh will just keep chucking. That's been the motto for the McCook, Neb., native, who has drained 230 3-point field goals during her career.
Things could change by late Tuesday night, but it was a shot that occurred inside the arc that will forever be associated as the signature moment of Daum's four-year run. In the aftermath of a wild GPAC championship win on Feb. 27, head coach Drew Olson praised Daum for her growth over time.
"She's grown so much as a player and as a person," Olson said. "I'm so proud of what she's become. She's an all-conference player in my opinion."
A few years ago, Olson may not have put Daum on the court in the situation that occurred in the GPAC championship game. Game tied at 88. Less than five seconds left on the clock. Admit it. You didn't think Daum would be the one to take the last shot. But there she was, slicing into the lane and kissing a contested left-handed flick off the glass.
It was an unforgettable moment during a season of many highs. For one of the few times in Daum's career, the spotlight – and the TV cameras – was on her.
"Everybody was really excited obviously," Daum said. "They just thought it was really cool. They were like, 'Was that the actual play?' I was like, 'No, I wasn't even supposed to touch it.' I was just lucky enough to have the ball in my hands in that last second. That was an all-around team win."
No, Daum's never been THE star on the team. She's just one of many players who know and perform their roles. There have been some ups and downs. Sometimes she's started, but mostly she's come off the bench for teams that have won – and won a lot. Daum and fellow four-year varsity contributor Mary Janovich have been constants during the winningest four-year stretch in school history. The Bulldogs enter the week with a preposterous record of 126-17 since the start of the 2014-15 season.
Daum and Janovich are also the only players in program history to play for three different national semifinalist teams.
"It's really, really special," Daum said. "That's something that Mary and I can share together and talk about and remember as we get older. You just think about how special that is to be part of such a great program."
Daum's final national tournament was made even more special in the second round when she became the program's 27th player to reach 1,000 career points. Fittingly, she got to that number exactly on a third quarter 'Daum Bomb' as part of yet another victory.
Daum's family was there to see it. Her parents Tim and Kristi don't miss her games. Even her older sister Aly flew in to see the milestone accomplishment. It's a rare game when Brenleigh's phone hasn't been bombarded with social media notifications from family members.
"My parents do everything they can to support me," Daum said. "I think my dad has missed like one game the whole time. He was like, 'Are you sure it's OK?' I said, 'Yes, it's fine.' My sister flew in from Virginia to be at the tournament. She just loves watching us play. It's super special because I don't see her very often. My aunt also loves coming to games and I actually have quite a bit of family here in Sioux City."
Brenleigh's style on the court has drawn attention from more than just family. She's never seen a shot she didn't like. They don't always go in, but she always seems to believe that the next one will. Such confidence is why moments like the one in the GPAC championship game are not too big for Daum.
On Monday night, and hopefully Tuesday night, Daum will #JKC. Just keep chucking. Long live the Daum Bomb.
"It's definitely bittersweet," Daum said of the close of her college basketball career. "It's been a really good four years. I know for sure I'm going to miss it a lot when it's over."