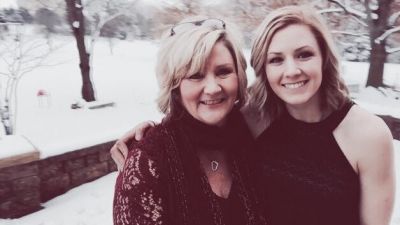 Dani Andersen cried shortly after Concordia suffered what remains its only defeat all season. The tears flowed not because of the loss of a basketball game, but because of the loss of something much greater than any game could ever be.
Recalls Andersen of the season opener in late October, "It was going to be emotional. I just kind of fell apart in the locker room because I couldn't go out and talk to my mom."
Lisa Andersen, mother of Kaleb, Joelle and Dani, used to paint free throw and 3-point lines on a cement slab on the family's farm in Columbus, Neb. Lisa coached girl's basketball for two seasons at Lincoln Christian high school. She gave that up in part to be able to spend more time watching Joelle and Dani. Said Dani, "I don't know if she ever really missed a game."
Basketball stood as a symbol of the relationship Dani and her mother enjoyed. A former basketball and volleyball player at Morningside, Lisa always had something to say after one of Dani's games. Why settle for that jumper when you could have driven to the basket? Lisa had a keen sense for the sport. Her mind could jog through plays that occurred throughout a game. It meant Dani had to be on her toes and ready to answer her mom's questions. But above all, Lisa provided positive reinforcement.
On Oct. 28, 2016, there would be no such postgame feedback. "That was really hard for me," Dani said. Her father Kent and sister Joelle made their way into the gym at Johnson & Wales University in Denver, Colorado. It was supposed to be a joyous moment as Dani donned Bulldog blue for the first time. Instead, the pain that sprouted that spring came rushing back.
'A God thing brought me here'
God had always been there for Dani. She understands that now more than she ever has before. While still enrolled at Midland University in February 2015, a then sophomore version of Dani met with her family after the Warriors had just been defeated handily in Fremont by Concordia.
One thought kept racing through Dani's mind with the night's contest having just concluded. She couldn't escape it, even if she tried. There were competing voices inside her head. 'Dani, you're going to be at Concordia next year.' 'No, absolutely not.' As those thoughts clashed, Bulldog head coach Drew Olson appeared near her in the arena lobby in somewhat of a chance encounter.
Olson had recruited Dani out of Lincoln Christian. There was mutual interest at that time, but Dani ultimately decided to reunite with her older sister. Says Dani, "I still think I was supposed to be at Midland for those two years." Her second year in Fremont was nearing its end that night she came face-to-face with Olson. There were also voices inside Olson's head that told him he needed to say something. Recalls Olson, "For some reason I felt in my heart that I needed to tell her that she's a really good player. I basically apologized for the (scholarship) mix up with recruiting and how it ended up."
Olson had no idea that the wheels had already begun spinning in Dani's mind. This was the same young woman who had conditioned herself to dislike Concordia, one of the premier programs in the conference. She tried to convince herself that Concordia was "the last place I wanted to be," though she knew it wasn't true. Says Dani, "Whenever we played Concordia, I was always like, 'We have to beat them. I do not like them.'"
The brief exchange in February 2015 made a lasting impact upon Dani, who felt a sudden change of heart. Maybe she was supposed to spend two years at Midland, but her final two collegiate basketball seasons would be spent at Concordia. "It was totally a God thing that brought me here," Dani said. Olson himself believes that The Holy Spirit was at work.
After discussions with her family and her now fiancé and lots of prayer, Dani had made her decision. She kept being nudged in Seward's direction. She asked for and was granted her release from Midland. Per NAIA rules, Olson could not have contacted her about a possible transfer until she had secured her release. Dani didn't know if Olson still wanted her, or if Concordia could make room for her. As Dani says, "It was just a lot of trust in God."
Olson knew what kind of talent and high character she possessed. There would be no scholarship snafus this time. Welcome to the Bulldog family, Dani.
April 5, 2016
In early April of 2016, several members of the Andersen family were engaged in a group text conversation about the ongoing NCAA Division I basketball tournament. At some point during the conversation, Lisa stopped replying. Kent had been in New Jersey on business and Kaleb, Joelle and Dani were going about their own lives. Dani was nearing the completion of her first school year at Concordia. Her thoughts were consumed by a school project and afternoon basketball practice.
There were anxious moments before practice on the day of April 5, 2016. Lisa wasn't responding to calls on her cell phone or at work. Kent was still out of town. Just before basketball practice was about to get started that day, Dani answered a call from Kaleb. "You need to come to Lincoln," Kaleb urgently instructed her. He would tell her nothing more until she arrived in Lincoln. Kaleb, Joelle and Dani convened on the family home. There Lisa rested lifelessly. At the age of 52, Lisa had died in her sleep. The siblings, stunned, were left trying to make sense of what had occurred.
Says Dani, "It was really hard to know that my mom is not there anymore. It was so confusing and so not real. We all knew from the get go, she's with Jesus now. It doesn't take away the hurt, but it gives hope that we get to see her again."
Dani's struggle
Dani was sad and she was angry. She was angry with God. "Why would You take my mom away from me?," Dani asked. "I had to come to a point where I could be honest with God and tell Him, 'I'm angry with you right now. You have my mom and I don't get her."
Such struggles are often hidden behind Dani's infectious smile. If you didn't know her story, you would never know the pain she's gone through. None of that is evident when she's rising up to drain another 3-pointer or relentlessly harassing a ball handler as part of Concordia's devastating press. From the perspective of the fan, everything looks perfectly fine when they see Andersen on the bench, cheering wildly for a teammate who just nailed a 3-point shot.
What they don't see is the heartache that surges to the forefront unpredictably. Sometimes it might happen in the weight room like it did during one instance at the beginning of the school year. Olson noticed and told her to go home. Last weekend at CIT, Dani played in front of the most rambunctious audience she's ever experienced. She wished her mother was there. It still stings.
"I don't think she shows what she's going through all the time," Olson said. "I think there are so many games where it's weighing on her and maybe her performance isn't as good as what she's capable of or what she'd like, but a lot of it is because of what she's still going through. I think her teammates get that a little bit. She's just an incredibly tough person to be able to have that on her mind and still be able to perform like she is."
Faith Bible Church on South 84th Street in Lincoln hosted a celebration service for Lisa Andersen on April 8, 2016. The entire Concordia women's basketball team showed up to lend their support. Some stuck around afterwards to comfort Dani. She spent roughly two weeks away before returning to Concordia to finish out the semester.
During the initial weeks of grieving, Dani didn't have contact with many of her teammates, but she could feel people praying for her and her family. Dani remembers Drew and his wife M'Leigh bringing a lasagna to the family. Every little thing meant a lot. Says Dani, "The prayers we got from so many people – it's amazing how you can feel that. We know people have prayed for us because we can feel the difference. It's crazy. I've never experienced that before and the power of other people praying for my family. We just felt like people were lifting us up and blessing us with their prayers."
Dani has come to terms with God. She says she can feel Him feeling the pain right along with her. She also makes it clear that no day ever goes by without thoughts about mom. As the National Anthem plays prior to games, Dani says a prayer and talks to her mom. Says Dani, "I want to make her proud."
Remembering Lisa
There was hardly a care in the world during Dani's youth as she rode horseback and raised her own pony when the family still lived in Columbus, as it did for the first 10 years of Dani's life. Early on, Lisa passed her love of basketball on to her daughters. Family games took place on that cement slab where Dani and Joelle developed fierce competitiveness. Neither one wants to give an inch against the other.
Dani and Joelle (two years older than Dani) became teammates in high school at Lincoln Christian and then again at Midland. "It was really fun," Dani said. "She was kind of our go-to person and I was the point guard. I was always trying to get her the ball. It was interesting sometimes in practices. We usually wouldn't have to guard each other, but sometimes we would. We'd get really competitive with each other. She was always stronger than me so I was always getting knocked down."
Lisa influenced her children beyond just the game of basketball. Her obituary stated, "She taught her children to love others and more importantly, to love Jesus. Lisa poured into her husband, children and community through her gifts of music, coaching and teaching, and her ability to impact individuals in deeply meaningful ways."
Lisa met her husband Kent while playing basketball in a YMCA league. They married in June of 1989.
She may no longer be living, but Lisa left behind a lasting legacy. Dani beamed when discussing the qualities she most admired about someone so dear to her. Says Dani, "She was not afraid of what other people thought of her. She was going to speak the truth or say something that other people might not be willing to say. She wouldn't let what other people did effect her. She had a boldness to her that was amazing. People always felt comfortable around her."
The perfect fit
Dani is a blur on the basketball court. She draws attention with her quickness, her non-stop motor and her ability to shoot from the perimeter. Not only a perfect fit for Olson's frenetic pace and system, she's been a hit with her Bulldog teammates. Like her mother, Dani has an inviting and warm personality.
More than a year removed from her transfer, Dani is thriving despite the understandable emotional swings that she must deal with. Concordia is 23-1 overall, ranked No. 2 in NAIA Division II and is on course for an unforgettable season. Dani has played a major role in that success. She's averaging 9.3 points and has knocked down a team high 52 shots from 3-point range.
"She just fits our style so well," Olson said. "Defensively, she's incredible on the ball. It's been fun with our new press and our new zone, seeing Mary (Janovich) and her work together. They just know exactly what each other is going to do. Off the court, her faith and her personality fit perfectly. She's just such a caring person. She's unselfish. She didn't come here to start or play big minutes. She came here to be part of our culture. She adds to our team in so many ways."
Dani has been an impact addition for another Concordia team that will compete at the national tournament next month. It will be a festive atmosphere and a lifelong memory for many involved. Lisa Andersen won't be in Sioux City to watch, but she'll surely be a proud mother. Says Dani, "I still think about her when I play."