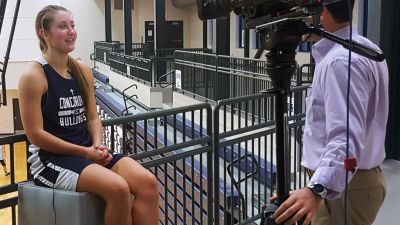 SEWARD, Neb. – The second-ranked Concordia University women's basketball took this past weekend off due to the postponement of Sunday's scheduled game at No. 9 Dakota Wesleyan. That means the Bulldogs' win streak stands at 18 entering this week's action. Eleventh-year head coach Drew Olson's squad will be at College of Saint Mary (5-14, 1-11 GPAC) for a 7 p.m. CT tipoff on Wednesday. Concordia will then welcome fellow conference power and 11th-ranked Morningside (15-5, 6-4 GPAC) for a 2 p.m. CT tilt on Saturday.
CSM will have a live webcast of Wednesday's contest via its Stretch Internet portal. Saturday's clash will be carried by both 104.9 Max Country radio and the Concordia Sports Network.
In last week's only outing, the GPAC-leading Bulldogs (18-1, 11-0 GPAC) remained unbeaten (8-0) at home this season by dismantling Midland, 95-38, on Jan. 11. The Warriors were suffocated by Concordia's pressure defense, which limited the visitors to 21.4 percent shooting while forcing 27 turnovers. The Bulldogs continued their series dominance versus Midland, outscoring the conference foe from Fremont, 65-19, over the third and fourth quarters.
Blossoming freshman standout Philly Lammers notched in her second career double-double, equaling a career high 21 points to go along with 11 rebounds in the trouncing of Midland. The product of Millard West High School has played beyond her years. She paces Concordia in several key offensive categories, including scoring (12.8), rebounding (6.3), blocks (1.0) and field goal percentage (.612).
A well-rounded team that can score, the Bulldogs have especially made defense their calling card. They have forced an average of nearly 28 turnovers per game and rank 13th nationally in field goal percentage defense (.353). Three Bulldogs average more than two steals per game: Mary Janovich (2.83), Lammers (2.21) and Shelby Quinn (2.11). Their ball-hawking style has helped Concordia produce a turnover margin of plus-10.3 (second best among all NAIA Division II teams). Its last three opponents have turned in shooting percentages of 33.9, 28.3 and 21.4, respectively.
It's been a struggle inside conference play for College of Saint Mary. The Flames notched their lone GPAC victory on Jan. 4 when they defeated Dordt, 81-70. CSM features six players who average more than seven points per game. In the first meeting between the two sides, the Bulldogs pummeled the Flames, 95-56, inside Walz Arena on Nov. 30.
Morningside owns a seven-game winning streak entering the week. Included in that run was a 101-71 blowout of then 10th-ranked University of Jamestown (N.D.) on Dec. 29. The Mustangs like to pull the trigger from 3-point range. They rank fifth nationally in 3-point field goals per game (9.6). Madison Braun, the team's leading scorer (16.5), has made 58-of-130 (.387) 3-point attempts. Lexi Ackerman (16.2) and Lauren Lehmkuhl (12.8) also average in double figures. The Mustangs have either won the conference outright or shared the GPAC regular-season title each of the last four seasons.
Saturday's game begins a run of four in a row at home. Concordia will host No. 7 Hastings on Jan. 25 before CIT tips off on Jan. 27.
Projected lineups
Concordia: 18-1, 11-0 GPAC
G – Shelby Quinn: 6.9 ppg, 4.5 apg, 3.0 rpg, 2.1 spg, .810 ft%
G – Dani Andersen: 10.1 ppg, 1.5 spg, 1.1 rpg, .414 fg%, .383 3-pt fg%
G – Mary Janovich: 11.4 ppg, 3.5 apg, 3.4 rpg, 2.83 spg, .521 fg%
F – Quinn Wragge: 10.6 ppg, 5.3 rpg, 1.8 spg, .571 fg%, .736 ft%
F – Philly Lammers: 12.8 ppg, 6.3 rpg, 2.2 spg, 1.0 bpg, .612 fg%

College of Saint Mary: 5-14, 1-11 GPAC
G – Justice Ross: 7.6 ppg, 6.0 rpg, 2.4 apg, 1.2 spg, .360 fg%
G – Alyssa Laudato: 3.2 ppg, 1.5 apg, 0.9 rpg, .378 fg%
G – Peyton Hagen: 8.4 ppg, 3.2 rpg, 1.7 apg, .377 fg%, .312 ft%
F – Ashley Nelson: 8.5 ppg, 3.7 rpg, 1.3 apg, .361 fg%, .764 ft%
F – Shelby Allberry: 5.9 ppg, 4.2 rpg, .495 fg%, .579 ft%
Morningside: 15-5, 6-4 GPAC
G – Lexi Ackerman: 16.2 ppg, 5.0 rpg, 2.7 apg, 1.5 spg, .480 fg%, .359 3-pt fg%
G – Madison Braun: 16.5 ppg, 3.5 spg, 2.3 rpg, 2.2 apg, .463 fg%, .387 3-pt fg%
G – Jordyn Moser: 4.3 ppg, 2.3 apg, 1.0 spg, .380 fg%
F – Rachelle Housh: 4.9 ppg, 4.1 rpg, 1.0 apg, .367 fg%
F – Lauren Lehmkuhl: 12.8 ppg, 6.5 rpg, 1.7 apg, 1.0 spg, .493 fg%, .408 3-pt fg%