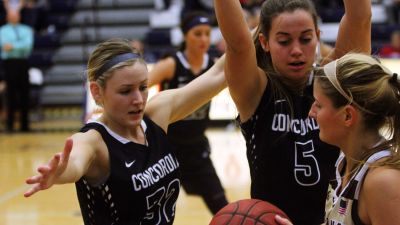 SEWARD, Neb. – It's back to business for the third-ranked Concordia University women's basketball team, which has been off since its 84-42 blowout win over Mount Marty on Nov. 21. Twelfth-year head coach Drew Olson's squad took some time off during Thanksgiving break. It now looks forward to hosting College of Saint Mary at 7 p.m. CT on Wednesday.
This week's schedule
Wednesday, Nov. 29 vs. College of Saint Mary (0-8, 0-3), 7 p.m.
Saturday, Dec. 2 at Dordt (5-6, 1-2), 2 p.m.
This should be the week the 2017-18 Bulldogs finally have their entire arsenal together. Concordia (7-0, 3-0 GPAC) played its first six games without reigning GPAC Defensive Player of the Year Mary Janovich. She returned to the lineup last week and totaled eight points on 3-of-4 shooting from the floor. While Janovich made her season debut, junior Quinn Wragge did not play. She will be back this week. Without Wragge, Olson used a four-guard lineup that included Janovich in addition to three backcourt players that have started every game: Sydney Feller, MacKenzie Helman and Dani Hoppes.
Named the GPAC Player of the Week on Nov. 21, Wragge's membership into the program's 1,000-point club was put on delay. She enters this week with 993 points over 75 career collegiate games. She is the team's leading scorer this season with an average of 15.7 points. Wragge and company have been especially dominant at home, where they have won each of their last 25 games, dating back to the final four home games of the 2015-16 season. Over four games inside Walz this season, the Bulldogs have an average victory margin of 37.8 points.
College of Saint Mary remains in search of its first victory of the season. In their last time out, the Flames fell at home, 74-69, to Dordt despite a 32-point performance by senior guard Miranda Acuna. Head coach Jesse Flanagan's squad has been playing without leading scorer Tyler Sumpter (14.8 ppg) since Nov. 7. CSM has tested itself with a challenging schedule including five teams that were either ranked or receiving votes in the preseason national poll. The Flames have been outscored on average, 83.1 to 61.6.
Dordt rebounded from conference losses to No. 8 Dakota Wesleyan and Briar Cliff with last week's victory over CSM. Sophomore point guard Annie Rhinesmith, who did not play in the latest outing – a 74-52 loss to Valley City State University, has been the team's brightest star. She leads the Defenders in scoring (14.7), assists (4.7) and steals (2.0). Rhinesmith, Rachel Evavold (14.2 ppg) and Erika Feenstra (12.3) each average double figures in scoring.
The Concordia Sports Network will provide a live webcast on Wednesday. Next week's lone contest will be a home date with No. 20 Hastings (6-1, 2-1 GPAC) at 6 p.m. CT on Wednesday (Dec. 6).
Projected lineups
Concordia (7-0, 3-0)
G – MacKenzie Helman: 2.9 ppg, 3.9 apg, 3.0 rpg, 1.7 spg, .350 fg%
G – Dani Hoppes: 9.7 ppg, 1.6 spg, 1.3 rpg, .455 fg%, .441 3-pt fg%
G – Mary Janovich: 8.0 ppg, 2.0 apg, 2.0 rpg, .750 fg%
F – Quinn Wragge: 15.7 ppg, 5.7 rpg, 1.6 spg, .596 fg%, .852 ft%
F – Philly Lammers: 12.4 ppg, 9.0 rpg, 2.6 spg, 1.3 bpg, .444 fg%, .778 ft%
College of Saint Mary (0-8, 0-3)
G – Alyssa Laudato: 5.0 ppg, 3.3 apg, 1.6 rpg, 1.3 spg, .413 fg%
G – Miranda Acuna: 14.4 ppg, 3.6 rpg, 1.3 spg, .340 fg%, .878 ft%
G – Keona Cadore: 5.4 ppg, 2.6 rpg, .354 fg%
F – Lacey Knudsen: 6.0 ppg, 5.6 rpg, 0.9 spg, .373 fg%
F – Ashley Nelson: 3.6 ppg, 2.9 rpg, 1.8 spg, .273 fg%
Dordt (5-6, 1-2)
G – Annie Rhinesmith: 14.7 ppg, 4.7 apg, 4.2 rpg, 2.0 spg, .484 fg%, .400 3-pt fg%
G – Payton Harmsen: 7.6 ppg, 2.6 rpg, 0.9 spg, .289 fg%, .273 3-pt fg%
G – Erika Feenstra: 12.3 ppg, 5.5 rpg, .483 fg%, .387 3-pt fg%, .929 ft%
F – Rachel Evavold: 14.2 ppg, 6.6 rpg, 2.3 apg, 1.5 bpg, .479 fg%
F – Baylee Tetzlaff: 6.0 ppg, 4.4 rpg, 0.8 spg, .362 fg%