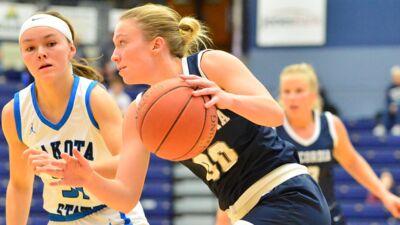 SEWARD, Neb. – The first full week of conference play is here to greet the Concordia University Women's Basketball team, which is coming off an 87-76 loss at Briar Cliff in the GPAC opener. The Bulldogs will look to get back to their winning ways as they host Midland on Wednesday before heading to Dordt on Saturday. Head Coach Drew Olson's squad is 2-1 (0-1 GPAC) with the two wins having come at the Cattle Classic over Bellevue University and Dakota State University (S.D.).
This Week
Wednesday, Nov. 16 vs. Midland (2-2, 0-0 GPAC), 6 p.m.
--Live Webcast/Stats | Max Country | Location: Friedrich Arena (Seward, Neb.)
Saturday, Nov. 19 at No. 15 Dordt (5-0, 0-0 GPAC), 2 p.m.
--Live Webcast | Live Stats | | Max Country | Location: DeWitt Gymnasium (Sioux Center, Iowa)
By the numbers
· The Bulldogs never truly recovered after they trailed, 19-8, at the close of the first quarter at Briar Cliff. Behind 23 points from Kennedy Benne and 21 from Konnor Sudmann, the Chargers built a lead as large as 18 midway through the third quarter. Concordia fought back admirably and got within six (65-59) after Taysha Rushton made two free throws with 7:19 left in the contest. The Bulldogs couldn't get enough stops down the stretch as Briar Cliff shot 52.8 percent from the floor. Concordia hung in the game with the help of 11 treys. Rushton finished with a team high 23 points while Sadie Powell added 16, Kendal Brigham contributed 11 and Mackenzie Toomey notched 10.
· Rushton entered last week's game needing eight points to reach 1,000 for her collegiate career. Rushton now stands at 1,015, making her the 31st player in program history to join the 1,000-point club. The native of Midland, Texas, averaged 14.4 points (445 total points) in 2020-21, 17.7 points (514 total points) in 2021-22 and has averaged 18.7 points (56 total points) so far in 2022-23. Rushton was named First Team All-GPAC in each of her first two seasons and was also recognized as an NAIA Honorable Mention All-American in 2021-22. Rushton's high for a single game was 32 versus Bellevue last season.
· Rushton and her fellow third-year classmates will be key to what becomes of this season. The team's current top four scorers are each from that group: Rushton (18.7), Brigham (10.3), Powell (9.3) and Toomey (9.0). There are high hopes for the Cedar Rapids, Iowa, native Powell, who averaged 9.4 points and 4.7 rebounds last season (30 games, 12 starts). Brigham may be as good of a shooter as any on the team. She nailed 34-of-91 (.374) 3-point tries last season and is 4-for-12 from long range to begin this season. As for Toomey, she's one of the team's top defensive players in the backcourt.
· Through three games, Concordia is averaging 73.7 points and allowing 66.7 points per game. The Bulldogs have posted shooting percentages of 37.5 from the field, 30.8 from 3-point range and 76.6 from the free throw line. Conversely, opponents have shot 39.9 percent from the field, 31.6 percent from beyond the arc and 70.6 percent from the foul line. Concordia has had a major advantage in turnovers with a +12.0 margin/game. The Bulldogs are turning it over only 8.3 times per game.
· Olson owns 425 career wins since being hired as head coach prior to the 2006-07 season. The accomplishments over time have included 12 total GPAC championships (six regular season, six postseason), 14 national tournament appearances, five national semifinal advancements and a national title in 2019. It will be difficult for any GPAC program to duplicate the achievements from the 2016-17 through 2019-20 seasons when Concordia swept GPAC regular season and postseason championships each year and took up residence within the top five of the NAIA Division II coaches' poll. Both the 2018-19 and 2019-20 teams were ranked No. 1 nationally when their seasons concluded.
The opponents
Midland was picked 11th in the GPAC preseason poll after it finished the 2021-22 season at 8-21 overall (4-18 GPAC). Head Coach Shawn Gilbert begins his 10th season leading the program, which last appeared at the national tournament in 2000. The Warriors are 2-2 this season with wins over Ottawa University (Kan.) and Panhandle State University (Okla.). Center Erin Prusa leads the team in scoring at 14.8 points per game while Emma Shepard ranks second at 11.3. Midland is averaging 66.0 points while allowing 71.8 points per game.
Pegged third in the GPAC preseason poll, Dordt remains a GPAC championship contender despite graduating GPAC Player of the Year Ashtyn Veerbeek. Head Coach Bill Harmsen's squad has retained experience in the form of stars like guard Bailey Beckman and post player Karly Gustafson. Beckman is shooting 52.2 percent from 3-point range and averaging 18.6 points while Gustafson is averaging 20.0 points and 6.2 rebounds. The Defenders are 5-0 with each win coming by a margin of at least 13 points. Dordt advanced to the 2022 national championship game and fell by a score of 77-65 at the hands of Thomas More University (Ky.).
Next week
Concordia will be in action once during the week of Thanksgiving as it will host Jamestown on Nov. 22.