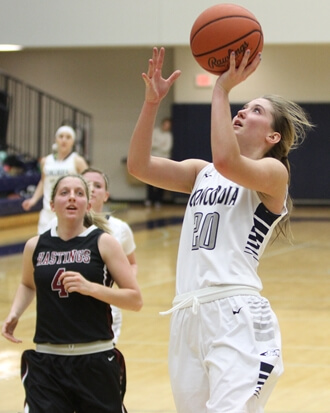 Concordia women to host Dordt College on Saturday
Following a tough loss on the road to 20th-ranked Northwestern earlier this week, the 7th-ranked Concordia University women's basketball team will look to bounce back against Dordt College on Saturday evening. The Bulldogs and Defenders will square off at 5 p.m. at the Walz Human Performance Complex.
Concordia is 13-2 overall and 6-2 in conference play so far this year. The Bulldogs had their 5-game winning streak snapped on Wednesday with a 74-67 loss to traditional power Northwestern. The loss put Concordia in a 3-way tie for second place in the current GPAC standings, joining Briar Cliff and Northwestern with 6-2 conference marks. Morningside College currently sits atop the conference standings with a 7-1 record.
The Bulldogs lead the GPAC in both scoring defense (58.1) and scoring margin (+20.8) while ranking second in scoring offense (78.9). Kristen Conahan and Amber Kistler continue to rank in the GPAC's top 10 in scoring. Conahan is seventh with 14.8 points per game, while Kistler is ninth with 13.9 points per game. As a team, Concordia ranks 10th in the GPAC in field goal percentage (39 percent) and eighth in 3-point field goal percentage (29.7 percent). Rebounding has been a key to Concordia's success, however, as the Bulldogs rank first in the GPAC in overall rebounding.
Scouting the Defenders – Dordt brings a 6-10 overall record into Seward. The Defenders are 2-7 in GPAC play. Dordt averages just 61.3 points per game (10th – GPAC) while allowing 63.9 points per game (7th – GPAC). The Defenders are last in the conference in 3-point field goal percentage (26.4 percent). Dordt has conference wins over Doane and Midland so far this season but have lost two straight games (95-74 at Briar Cliff, 75-48 vs. Hastings) entering Saturday's contest.
Kara Van Dyke and Brianna Spronk have led the way for Dordt so far this year. Van Dyke averages a team-high 10.8 points per game (11.4 points per game in GPAC play) to go along with a team-best 7.2 rebounds per game. Spronk averages 10.3 points per game (11 points per game in GPAC play) along with 6.4 rebounds per game.
The Concordia Sports Network will provide a live audio and video webcast. Keegan Bloomfield will call all the action from the Walz Complex.
Up next - #7 Concordia travels to #8 Hastings College (Jan. 11) and #5 Morningside College (Jan. 14) next week.