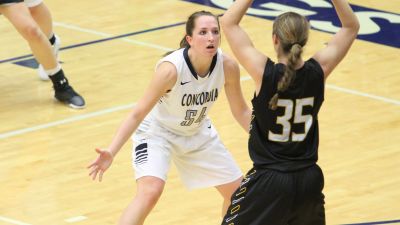 SEWARD, Neb. – The No. 14 Concordia women's basketball team had no troubles with non-conference foe York College on Thursday night. The Bulldogs stomped the Panthers, 111-65 in the tilt played in Walz Arena. Junior Devin Edwards posted a career-high 14 points. Three other Bulldogs scored in the double digits.
Concordia improves to 6-3 on the season while remaining 3-3 in the GPAC. York falls to 4-6.
"It was a good win for us," head coach Drew Olson said. "I think it really helped us for Saturday in terms of things we want to work on. Thirty-one (McCorra Ford) for them (York) had a great night and we couldn't keep her in front of us, so that was a good kind of learning lesson for us."
The Bulldogs made over half of their field goals (44-79), shooting .557 while holding the Panthers to 32.3 percent from the field. CUNE was 16-38 (42.1 percent) from 3-point range and shot .700 from the free throw line.
Freshman Quinn Wragge put up an impressive game going 9-9 from the field. The only shots the Crofton, Neb. native missed were two free throws. Wragge scored 20 points and also grabbed two rebounds and one steal and blocked one Panther shot.
On Edwards' career-high night, Olson said, "Her energy in practices is awesome and she deserves this kind of performance and I'm really happy for her."
Scoring 14 points, Edwards outscored her previous game-high of 12. The junior went 4-5 from behind the arc and added on four rebounds and two assists.
"My teammates were driving and attacking so it was easy for me to get open and shoot," Edwards said.
Also scoring in the double digits were Erin Vieselmeyer (12) and Carissa Gutz (11).
The Bulldogs' defense again proved to be solid. With 2:12 remaining in the first quarter, York reached a double-digit score after Concordia had already piled up 26 points.
On the game, Edwards noted, "I thought we played really well together. We got stops and that led to transition layups. I thought we played really well on defense."
In the second quarter, the game plan did not change. In the final two minutes of the half, the Bulldogs scored 10 points while holding the Panthers to just two points which came from a set of free throws from York's Ford. Ford scored 26 of the Panther's 65, which led all players in the game.
In the third and fourth periods, Olson had subbed in the entire bench. In a similar fashion to the night before, each Bulldog contributed to the scoring column. Vieselmeyer put triple digits on the scoreboard for CUNE with just under four minutes remaining in the game. The Bulldogs tacked on 11 more to seal an 111-65 victory.
With Mount Marty next up on the Bulldogs' slate, Edwards said, "We take it day by day, game by game. Tomorrow we're going to focus on Mount Marty, we just focus on one game at a time and come together and play our game."
The No. 14 Concordia women's team will welcome Mount Marty College (6-4, 2-3 GPAC) to Walz Arena on Saturday, Dec. 12 for a 2 p.m. tipoff.