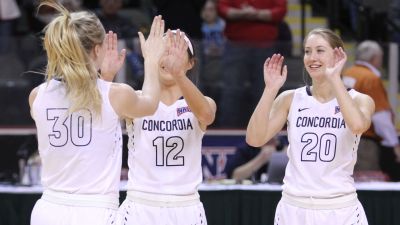 SIOUX CITY, Iowa – We already had an epic trilogy. Now it's time for part IV of what could be an all-out brawl. Tuesday's NAIA Division II Women's Basketball National Championship Game will feature GPAC titans in second-ranked Concordia and seventh-ranked Dakota Wesleyan. As it turned out, the GPAC championship game was simply a preview of the national title clash to come.
Tuesday, March 13 | 7:05 p.m.
NAIA Division II Women's Basketball National Championship Game
No. 2 Concordia (36-1) vs. No. 7 Dakota Wesleyan (31-6)
Sioux City, Iowa | Tyson Events Center
Watch: ESPN3
Radio: 104.9 Max Country
Live stats: Dakstats
If tonight's game turns out to be anything like the GPAC championship game, then fans are in for a treat. Brenleigh Daum's bucket with 0.7 seconds left lifted the Bulldogs to a 90-88 win over the Tigers in another physical battle between the two sides. Concordia has won each of the last four meetings in the series – two of which have been conference tournament title games. During the 2017-18 regular season, the Bulldogs topped Dakota Wesleyan by scores of 70-66 in Mitchell, S.D., and 55-42 in Seward.
The national tournament path of head coach Jason Christensen's squad has included wins over IU East, No. 10 Southern Oregon, top-ranked Southeastern (Fla.) and No. 4 Saint Xavier (Ill.). The Tigers have won each of those games by margins of 14 points or more. Sophomore Kynedi Cheeseman leads all players at the 2018 national tournament in total points scored with 82 (20.5 per game). Three of her teammates are also averaging in double figures at the national championships: Ashley Bray (16.5), Amber Bray (13.0) and Riley Osthus (11.5). In the midst of their program's sixth national tournament appearance, the Tigers are in the national title game for the second time in program history. They fell at the hands of Hastings, 59-53, in the 2003 championship contest.
Concordia hasn't exactly had a nailbiter during its stay in Sioux City, Iowa. The Bulldogs' road to the final has featured wins over Stillman (Ala.), 75-52, No. 15 Taylor (Ind.), 71-50, No. 8 Jamestown, 79-61, and Northwestern, 84-77. Concordia has proven up to the task in sequels. It has defeated five nationally-ranked teams multiple times this season: No. 7 Dakota Wesleyan three times, No. 8 Jamestown twice, No. 11 Northwestern three times, No. 12 Hastings twice and No. 13 Morningside three times.
By the numbers
At 36-1 overall, the 2017-18 Bulldogs have surpassed the previous high water mark for wins in a season during Olson's tenure. They now share the school single-season record win total with the 2002-03 squad that went 36-2.
Concordia made its sixth semifinal appearance in school history (2003, 2005, 2012, 2015, 2017, 2018) and third over the past four seasons. It will now move on to the championship game for just the second time in program history. The 2014-15 team advanced to the national final and suffered a heart breaker of a 59-57 loss to Morningside.
The Bulldogs are 29-16 over 17 all-time appearances on the national stage. In 10 trips to nationals, Olson has gone 18-9 with four semifinal advancements, including the 2015 runner-up finish.
Concordia's roster includes four players with more than 1,000 career points: Quinn Wragge (1,375), Mary Janovich (1,157), Dani Hoppes (1,136) and Brenleigh Daum (1,014). Philly Lammers (991) is not far off after putting up 20 points versus Jamestown and 23 versus Northwestern. Over the past week in Sioux City, Lammers is averaging 16.8 points, 10.8 rebounds, 2.8 steals and 2.0 blocks per game. Wragge has been the team's second leading scorer at the national tournament with an average of 14.8 points per game (59.1 percent shooting from the floor).
Dakota Wesleyan is an elite team and the numbers bare it out. On the national leaderboard, it ranks first in free throw percentage (.804), second in field goal percentage (.482), third in rebound margin (+12.0), ninth in scoring offense (80.3), 11th in field goal percentage defense (.358) and 16th in scoring defense (59.2). Both Bray sisters and Osthus were named first team All-GPAC. Osthus also shared the GPAC defensive player of the year award with Hastings' Rachel Jelden.
ESPN3 will provide live coverage of the championship game. All Concordia games can also be heard live on 104.9 Max Country.
Projected lineups
Concordia (36-1)
G – MacKenzie Helman: 4.9 ppg, 2.9 apg, 2.2 rpg, 1.7 spg, .353 fg%, .357 3-pt fg%, .462 ft%
G – Dani Hoppes: 9.7 ppg, 1.6 spg, 1.6 rpg, .402 fg%, .373 3-pt fg%, .650 ft%
G – Mary Janovich: 8.9 ppg, 2.9 apg, 2.4 rpg, 1.9 spg, .505 fg%, .423 3-pt fg%, .822 ft%
F – Quinn Wragge: 13.2 ppg, 5.3 rpg, 1.4 spg, .615 fg%, .480 3-pt fg%, .805 ft%
F – Philly Lammers: 13.6 ppg, 8.4 rpg, 2.5 spg, 1.3 bpg, .512 fg%, .736 ft%
Dakota Wesleyan (31-6)
G – Kynedi Cheeseman: 14.6 ppg, 3.7 rpg, 2.9 apg, 1.1 spg, .423 fg%, .344 3-pt fg%, .871 ft%
G – Chesney Nagel: 3.3 ppg, 4.7 rpg, 3.0 apg, 1.1 spg, .298 fg%, .691 ft%
G – Riley Osthus: 10.3 ppg, 5.4 apg, 4.6 rpg, 1.4 spg, .483 fg%, .357 3-pt fg%, .744 ft%
F – Amber Bray: 14.3 ppg, 6.7 rpg, 1.1 spg, .556 fg%, .500 3-pt fg%, .873 ft%
F – Ashley Bray: 14.5 ppg, 5.6 rpg, 2.0 apg, .545 fg%, .460 3-pt fg%, .894 ft%