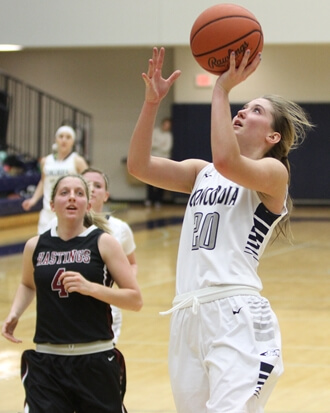 Concordia uses balanced scoring to top Nebraska Wesleyan, 74-63
Concordia University secured a 74-63 women's basketball win over Nebraska Wesleyan on Wednesday evening in Lincoln. Four players scored in double figures for the Bulldogs in the win.
Besides a 2-2 tie in the opening minutes, Concordia led from start to finish. The Bulldogs connected on 17-of-33 shots in the opening half for 51.5 percent. Concordia led by as many as 13 (37-24) in the opening 20 minutes and took a 39-31 lead into halftime.
The Bulldogs maintained a double digit lead for much of the second half. The host Prairie Wolves got as close as six on a few occasions, but Concordia continued to have answers down the stretch. The Bulldogs again built a lead as big as 13 (69-56) in the closing minutes and settled for the 74-63 win.
Concordia was 29-of-70 (41.4 percent) from the field for the game. The Bulldogs were 6-of-19 (31.6 percent) from three point land and 10-of-18 (55.6 percent) at the foul line. Concordia held a slim 41-37 rebounding advantage. Concordia finished with 18 assists on 29 made field goals and totaled just seven turnovers in the contest.
Nebraska Wesleyan, now 5-9 overall and 1-6 in the GPAC, was 24-of-55 (43.6 percent) from the field in the loss. The Prairie Wolves were 4-of-13 (30.8 percent) from deep and 11-of-16 (68.8 percent) at the foul line. NWU committed 16 turnovers on the night.
Kristen Conahan (Omaha, Neb.) poured in a team-high 16 points off the bench to lead a balanced Concordia offensive attack. Kristin Miller (Jefferson City, Mo.) added 14 points and six rebounds, and Katie Rich (Tilden, Neb.) scored 12 to go along with six boards. Amber Kistler (Minatare, Neb.) also reached double figures with 11 points for Concordia, now 10-8 overall and 3-5 in GPAC play this season.
Sadie Struebing scored a game-high 24 points and pulled down 13 rebounds to lead the way for Nebraska Wesleyan. Mallory Shanahan and Shea Rasmussen added 12 and 10 points, respectively, for the Prairie Wolves.
Concordia travels to Dakota Wesleyan on January 16.