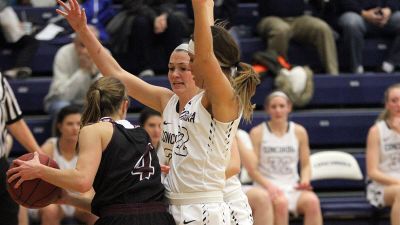 SEWARD, Neb. – Philly Lammers has not been kind to visitors from Sioux City, Iowa, in postseason play. With a spot in the GPAC tournament championship game riding on Saturday's (Feb. 24) outcome, Lammers and her gnat-like teammates cruised past 13th-ranked Morningside, 106-86, inside Walz Arena. The visiting Mustangs were plagued by their 25 turnovers.
Twelfth-year head coach Drew Olson's squad remains on the hunt for the program's fifth GPAC tournament title. Second-ranked Concordia will carry a 31-1 overall record into the championship game.
"We knew we were fine (offensively)," Olson said. "Teams and players can go up and down with their shooting. We're such a good shooting team we knew eventually it would come around. One of our mantras is just keep chucking. Our kids do that and they knew it was going to go in today."
This matchup featured two of the league's leading candidates for conference player of the year: Lammers for the Bulldogs and sharpshooting Madison Braun of Morningside. With two rounds of GPAC tournament action in the books, Lammers has stated a pretty convincing case as the league's most dominant player. She totaled 10 points before Saturday's game was even three-and-a-half minutes old while fueling a breathtaking start for Concordia.
A solid second quarter produced by the Mustangs was sandwiched between two soul crushing first and third periods that were characterized by Bulldog thievery, Morningside throwaways and 10-second violations. In addition to its typical mercilessness defensively, Concordia played one of its crisper offensive games of the season. The Bulldogs knocked down six of their first seven attempts from 3-point distance and five different players tallied at least nine points.
Lammers has been nearly unstoppable in the GPAC tournament. She totaled 23 points, 14 rebounds and five steals in the quarterfinal win over Briar Cliff and then added 20 points, six rebounds and four steals on Saturday. Over those two games, she's made 19-of-27 (.704) shots from the field.
Said Olson, "She's incredible. I think she's the best player. She dominates on both ends. I'm glad she's on our team."
A particularly pesky press helped Concordia rack up 36 points in the opening quarter and another 37 in the third period. By that point, it was over. The Bulldogs led 86-56 while effectively responding to the Mustang push in the second quarter.
"We really played better team offense and we moved the ball a lot better," said senior guard Sydney Feller. "I think that really got our offense going. We always say that defense leads to offense. With the press we were getting easy layups from steals. It was an all-around team win today."
Feller, who posted nine points, five assists, four rebounds and two steals, is spot on. Lammers got plenty of aid. Brenleigh Daum poured in 19 points on 6-for-12 shooting while Quinn Wragge chipped in 18 in a 9-for-12 shooting effort. Dani Hoppes also added nine points, the always hustling Colby Duvel contributed seven points and eight rebounds and MacKenzie Helman dished out five assists and swiped four steals.
Morningside (21-11) never held a lead. It was swarmed right from the opening tip. The Mustangs fell behind 11-0 while committing turnovers on each of their first four trips down the court. Braun topped the visitors with 19 points and four steals. Sydney Hupp and Mady Maly tallied 10 points apiece. Morningside was outshot, 56.9 to 43.8 percent. Concordia also went 14-for-28 from beyond the arc.
For the second year in a row, Dakota Wesleyan will meet Concordia inside Walz Arena with a GPAC tournament title on the line. Tipoff for Tuesday's (Feb. 27) championship game is set for 7 p.m. CT. The Bulldogs swept a pair of regular-season meetings from the third-seeded Tigers (27-5), winning by scores of 70-66 in Mitchell, S.D., and 55-42 in Seward. Dakota Wesleyan's postseason route to the title clash has included wins over Midland, 72-43, and at No. 10 Northwestern, 73-58.