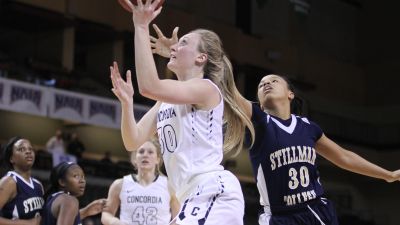 SIOUX CITY, Iowa – For the third time in history, the Concordia University women's basketball team will meet Taylor University (Ind.) at the NAIA Division II Women's Basketball National Championships. The Bulldogs advanced to the second round by throttling tournament newcomer Stillman College (Ala.), 75-52, at the Tyson Events Center on Wednesday (March 7). Concordia has eyes on moving to the quarterfinals for the 10th time in program history.
Friday, March 9 | 10:15 a.m.
NAIA Division II Women's Basketball National Championships (First Round)
Concordia (32-1) vs. Stillman (19-11)
Sioux City, Iowa | Tyson Events Center
Webcast: NAIA Network (fee required)
Radio: 104.9 Max Country
Live stats: Dakstats
But first, what do the Bulldogs do with their off day on Thursday? Twelfth-year head coach Drew Olson wants them to rest and recuperate – and also take advantage of a NAIA Champions of Character opportunity.
"Tomorrow we'll have a practice and we'll go to one of the schools here and play with the kids," Olson said after Wednesday's win. "And then you just give them the day off so that we can have fresh legs on Friday."
After more than a week off since holding off Dakota Wesleyan in the GPAC championship game, Concordia looked fresh on Wednesday. Philly Lammers racked up 16 points and 10 rebounds in just 13 minutes of action and the Bulldogs dominated defensively. They led 43-17 at halftime and cruised to victory. On the perimeter, Brenleigh Daum and Dani Hoppes knocked down three treys apiece. Hoppes is now 10-for-15 from 3-point range over her last two games at the Tyson Events Center.
The Bulldogs took on Taylor in the first round of the national championships in 1997 and 2009. Both contests resulted in Concordia wins – 83-78 in 1997 and 72-53 in 2009. The fifth-seeded Trojans of Upland, Ind., rallied to beat fourth-seeded Northwest Christian (Ore.), 61-54, in the game that immediately followed the Bulldogs. Head coach Jody Martinez's squad features star junior forward Kendall Bradbury, who entered the tournament averaging 23.5 points and 10.2 rebounds. Taylor earned a national bid as the Crossroads League tournament runner up.
Concordia is now 26-16 in 17 all-time appearances at the national tournament. Olson's national tournament record stands at 15-9 over 10 trips to the national stage. The Bulldogs have advanced to the semifinals or further in three of their previous six national tournament runs.
The winner of Friday's contest will move on to the quarterfinals and face either second-seeded Jamestown (N.D.) or third-seeded Indiana Tech as part of the Liston Bracket. That quarterfinal game will take place at 3 p.m. on Saturday.
Projected lineups
Concordia (33-1)
G – MacKenzie Helman, So. (Lincoln, Neb.)
G – Dani Hoppes, Sr. (Lincoln, Neb.)
G – Mary Janovich, Sr. (Gretna, Neb.)
F – Quinn Wragge, Jr. (Crofton, Neb.)
F – Philly Lammers, So. (Omaha, Neb.)
Taylor (24-10)
G – Abby Buchs, So. (Angola, Ind.)
G – Josie Cobb, Sr. (New Holland, Ohio)
G – Aubrey Wright, Jr. (Columbia City, Ind.)
F – Kendall Bradbury, Jr. (Highlands Ranch, Colo.)
F – Cassidy Wyse, Sr. (Archbold, Ohio)