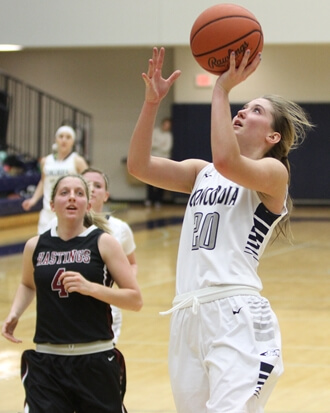 Concordia runs past Dakota Wesleyan, 95-63
Concordia jumped out to a 49-24 halftime lead and cruised to a 95-63 women's basketball win over Dakota Wesleyan on Saturday afternoon in Seward. The Bulldogs moved to 6-4 overall and 2-2 in GPAC play with the victory. Dakota Wesleyan dropped to 1-9 on the season. The Tigers remained winless in GPAC play at 0-4.
Concordia totaled 75 shots in the game compared to just 41 for Dakota Wesleyan. The Bulldogs had 19 steals and forced 28 DWU turnovers in the game. Concordia also held a 41-34 rebounding advantage. Offensively, Concordia had 22 assists on their 33 made baskets.
For the game, Concordia was 33-of-75 (44 percent) from the field. The Bulldogs were 11-of-24 (45.8 percent) from three point land and 18-of-24 (75 percent) at the foul line.
Amber Kistler (Minatare, Neb.) poured in a game-high 21 points for the Bulldogs. Kistler was 7-of-14 from the floor, 3-of-5 from long range and 4-of-5 at the charity stripe. Katie Rich (Tilden, Neb.) added 14 points, while Kristen Conahan (Omaha, Neb.) added 13 off the bench. Conahan was 5-of-7 from the field and 3-of-4 from deep. Kristin Miller (Jefferson City, Mo.) also reached double figures with 10 points. Miller also grabbed a team-best seven rebounds in the Concordia win.
"It was important to get this win to build some momentum," noted Concordia junior Amber Kistler. "We've played a little sloppy lately, so we needed to focus in today."
Dakota Wesleyan was just 16-of-41 (39 percent) from the field. The Tigers were 7-of-18 (38.9 percent) from distance and 24-of-35 (68.6 percent) at the foul line.
Elizabeth Lamb scored a team-best 16 points for DWU. Brittany Pritchard and Amanda Hart added 11 apiece for the Tigers in a losing effort.
The GPAC schedule won't get easier for the Bulldogs, who host perennial power Hastings College on Wednesday evening. "We still need to work on putting together 40 minutes of good basketball," noted Kistler. "We've had some good runs in different games, but playing at that level consistently would take our team to another level."
Tip is scheduled for 6 pm Wednesday evening at the Health, Human Performance and Athletic Center.