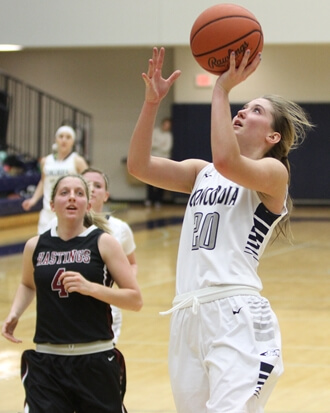 Concordia returns to action Tuesday with road contest at Doane
Concordia University will look for its third straight win on Tuesday when they travel to Doane College. Tip is scheduled for 6 p.m. in Crete.
The Bulldogs haven't played since a 62-49 victory at Dakota Wesleyan on December 10. Concordia, ranked seventh in the latest NAIA top 25 poll, takes a 10-1 overall record with a 5-1 conference mark into Tuesday's contest. Concordia currently sits second in the GPAC standings, trailing only Morningside College (6-1 GPAC). Kristen Conahan and Amber Kistler continue to lead the way offensively for the Bulldogs. Conahan scores 15.3 points per game (15.8 in GPAC play), while Kistler adds 13.1 points per game (13.7 in GPAC) on the year. Concordia also has five other players that average at least six points per game. Concordia is second in the GPAC in scoring offense (77.1 points per game) and first in scoring defense (57 points per game).
Doane College is 7-4 overall and 4-3 in GPAC play so far this season. The Tigers have won four of their last five games and are coming off a 64-58 win over Dakota Wesleyan on December 16. The Tigers are led in scoring by Cheryl Braithwait's 13.1 points per game. Braithwait has averaged over 14 points per game during conference play. Madara Upeniece averages over 11 points per game on the year, while Hannah Dostal has scored 11.6 points per game during conference play.
Last season, Doane College won both meetings between the two schools. The Tigers picked up an 87-72 win in Crete and then held on for a 53-52 win over the Bulldogs in Seward later in the season. The Tiger Sports Network will provide a live video feed for Tuesday's game at the link below.
The Concordia women will travel to Denver on December 29-30 for the Johnson & Wales Classic.