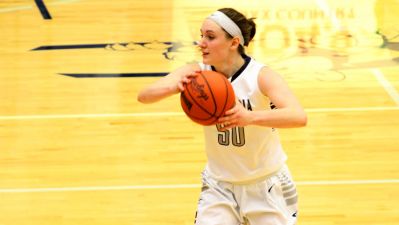 REDDING, Calif. – The 14th-ranked Concordia women's basketball team held a 20 point advantage over Simpson University on Tuesday night. The Bulldogs got an 81-61 victory over the Red Hawks, shooting just under .500 at .461 (30-65) from the field.
CUNE improves to 9-3 this season. Simpson falls to 3-9 this year. The Red Hawks had previously won three of their last four before the loss from Concordia.
Head coach Drew Olson said, "I was pleased with getting the win. It was a tough road win…I thought Simpson played really well. We did a lot of uncharacteristic things. We made bad decisions on offense. Thankfully we did shoot well. We can play a lot better and I'm sure we will. It was a good win. To beat them on their own floor this far away from home is a good win."
Although the Red Hawks took more shots than the Bulldogs, it was the 'Dogs that had more shots fall, giving them a .461 percentage from the field while holding Simpson to .373 in field goal percentage. Concordia shot .352 from 3-point land, making 12.
Concordia forced 20 Simpson turnovers and scored 22 points off those turnovers. The Bulldogs blocked four shots while grabbing 10 steals on the night.
Leading CUNE in scoring was Brenleigh Daum who scored 20 points, 18 of them coming from behind the arc. The sophomore's 20 tallies is a career high, beating her previous best of 19 points, set earlier this season against Mayville State.
"Brenleigh obviously was a key to the game," Olson said. "She knocked down her shots and shot well. Mary (Janovich) was phenomenal the whole game. She got in foul trouble so she didn't get to play the whole game but she was fantastic. Shelby (Quinn) was really solid at point guard. Quinn (Wragge) had a really nice second half."
Three more Bulldogs scored in the double digits, including Wragge who scored 15. The freshman led the team in rebounds with seven. Becky Mueller added 19 to the scoring column while Janovich put up 13 points.
As a team, Concordia committed a season-high 25 turnovers. The Red Hawks scored just 13 points off of those turnovers, keeping the Bulldogs lead alive. Despite the lofty number of turnovers, the 'Dogs were able to seal a win and will move on with their game-by-game mentality.
"It's a win, we'll move on but I wish we played a little bit better."
Pacific Union is up next on the Bulldogs' slate. The two squads will play on Wednesday at 4 p.m. CDT. The Pioneers are 0-12 on the season.