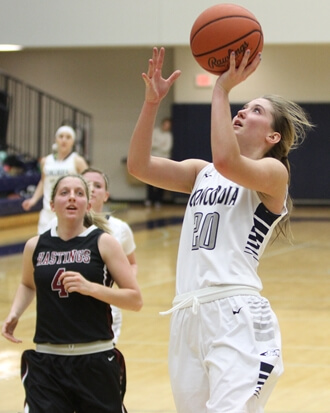 Concordia pummels Concordia-Chicago in opening game of CIT
The Concordia University women's basketball team cruised to a 90-50 win over Concordia-Chicago on Friday afternoon in the opening game of the Concordia Invitational Tournament. With the win, the Bulldogs improved to 12-11 on the year. The Cougars dropped to 7-11 on the season with the loss.
The Bulldogs opened the game on fire and quickly built a double digit lead at 14-4. The Cougars would get no closer than seven the rest of the way, and the Bulldogs continued to pull away throughout the first half. The Bulldogs led by as many as 23 (34-11) in the opening 20 minutes and took a 46-27 lead into halftime. Kristen Conahan (Omaha, Neb.) scored 15 points on 5-of-8 shooting from behind the arc to lead the way for the Bulldogs in the first half.
In the second half, the Bulldogs continued to pour it on. Concordia-Chicago pulled within 18 (56-38) with just under 14 minutes remaining in the contest, but the Bulldogs answered with a 9-0 run to grab a 65-38 lead with 10 minutes remaining in regulation. The Bulldogs again put up over 40 points in the half and secured the easy win.
A total of five players scored in double figures for the Bulldogs on the day. Conahan finished with a team-best 17 points. Kat Ommen (Jefferson City, Mo.) and Katie Herther (Sioux Falls, S.D.) added 14 and 13 points, respectively, off the Bulldog bench. Amber Kistler (Minatare, Neb.) had 11 points, and Kristin Miller (Jefferson City, Mo.) delivered 10 for a balanced offensive attack. The Bulldogs also held a commanding 44-29 rebounding advantage and forced Concordia-Chicago into 22 turnovers on the day.
Marche Smith scored a game-high 18 points for Concordia-Chicago. Krystyna Rickett added 12 for the Cougars.
The Bulldogs will vie for their fourth straight CIT championship against either Concordia-Wisconsin or Concordia-Ann Arbor on Saturday.