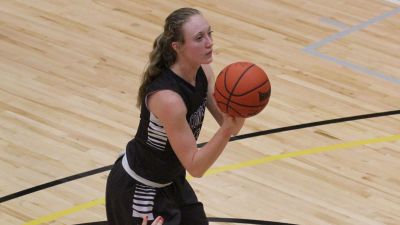 OMAHA, Neb – The No. 9 Concordia women's basketball team fought back after a first quarter deficit to defeat College of Saint Mary 73-67. Freshman Quinn Wragge led the team in scoring with 19 with Brenleigh Daum right behind, scoring 18. Leading all players was the Flames' post, Deaundra Young who posted 41 points.
After the victory, the Bulldogs improve to 13-4 overall and 8-4 in the GPAC. The Flames drop to 9-9, 3-8 in the conference.
Head coach Drew Olson said, "It was a great game. I thought College of Saint Mary played really well. We knew how good Deaundra Young was and we just figured she was going to get her points. She was even better than we expected. She hit some shots that I didn't think she would make so credit to her.
"I'm just really proud of our kids and how we kept fighting, especially how big we were down the first quarter. We just kept adapting and figured out how to slow them down. In the fourth quarter Brenleigh Daum hit some big shots to give us the lead and that was the difference."
As a team, Concordia shot .490 from the field and .391 from 3-point range. The Flames converted 26 of 58 attempts to compile a 44.8 percent. Rebounds were even at 32 while the Bulldogs held a 6-2 advantage in steals.
Along with Wragge's 19 points, the freshman added seven rebounds, two assists and two steals to her line. Also scoring in double-digits was Mary Janovich who also grabbed two rebounds and dished out four assists.
Wragge said, "It was awesome, they were a really good team. Our first quarter was a little bit rough but then we calmed down and figured it out and stuck to our game plan and did what we needed to do to get the win."
The first quarter was controlled by the Flames who outscored the Bulldogs 21-9 while going on a 14-2 run to close out the period. Eight of those points came from Young.
"I remember coach at one time was like, 'Do you guys want to win?' We just needed to go out there and play our basketball. We were just getting caught up in other stuff and when we stuck to the game plan and did what we needed to do we got the result," Wragge said.
In the second quarter the Bulldogs closed the gap and tied up the game with just under four minutes to go. Thanks to 3-pointers from Laurel Krohn, Sydney Feller, and Daum, the Bulldogs finally pulled ahead with 20 seconds remaining in the half. A pair of free throws from College of Saint Mary's Pilar Aldrich gave the Flames a one point lead going into the break.
The 'Dogs led for the majority of the third quarter before heading into neck and neck final quarter. Scoring eight of the points in the final period was Daum while Shelby Quinn, Wragge and Janovich chalked up five free throws to give the Bulldogs the win.
"I just asked them how bad they wanted to win," Olson said. "They showed that they really wanted to win tonight. That's something they need to continue to focus on…it's a full 40 minutes and not just one or two quarters."
Up next for the Concordia women's basketball team is No. 6 Dakota Wesleyan. The Tigers will visit Walz Arena on Saturday for a 2 p.m. tipoff.