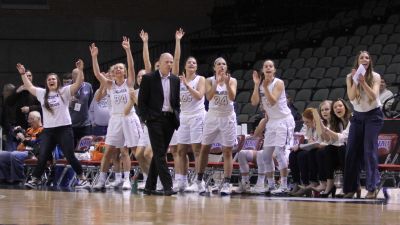 SIOUX CITY, Iowa – While playing in the first round of the national tournament on Wednesday afternoon (March 7), the Concordia University women's basketball program did exactly what it's done each time as a No. 1 seed under head coach Drew Olson – dominate in the opening round. The Bulldogs settled into half court man-to-man defense and stifled Stillman College (Ala.), which made its first national tournament appearance all-time. Concordia won handily, 75-52, in Sioux City, Iowa.
The victory was Olson's 15th all-time as a head coach at the national tournament. As a program, the Bulldogs (33-1) are in the midst of their 17th trip to the national stage.
"I thought our kids played really well. They stuck to the defensive game plan," Olson said. "When we hit some shots in the second quarter we were able to break it open. I think it's good to just get that first one out of the way and have that confidence going into the next game."
The atmosphere was about what could have been expected for a noon matchup between Nos. 1 and 8 seeds in the middle of the week. After a somewhat lethargic first few minutes, the Bulldogs exerted their will. On the few times when the Tigers (19-12) were able to crack the Concordia defense, they couldn't seem to convert. When the halftime buzzer sounded, the Bulldogs owned a 43-17 lead while Stillman struggled to 20.6 percent (7-for-34) shooting.
The floodgates opened when senior Dani Hoppes got going from 3-point range. She drilled back-to-back attempts from long distance to push a three-point lead to nine (18-9). Hoppes doesn't mind the unique backgrounds at the Tyson Events Center. She's now 10-for-15 in her past two games at the Tyson after going 3-for-4 on Wednesday.
Concordia's combination of defensive tenacity, shooters and the star power of Philly Lammers inside were on display. Lammers played a grand total of 13 minutes and still managed a double-double (16 points, 10 rebounds). Lammers began the second half by scoring six quick points and by swatting a shot. She passed the torch to Brenleigh Daum, who splashed in 11 of her 14 points in the second half.
No matter the venue, the Bulldogs make themselves comfortable. They went from playing in a rambunctious Walz Arena, site of last week's GPAC tournament title game battle with Dakota Wesleyan, to a much quieter environment on Wednesday.
Said Lammers, "Within our team, we try to bring our own energy and be consistent with that. Our bench energy hypes everybody up and gets us excited. That definitely helps us out."
Concordia built a lead as large as 31 points, allowing the entire roster to get a taste of national tournament action. Entering the event, nine Bulldogs had played in at least one game on the national stage. That list includes seniors Mary Janovich and Daum, both members of the 2015 national runner up and 2017 national semifinalist squads.
Not only that, Janovich and Daum are now representatives of the winningest four-year class in program history. At 124-17 since the start of the 2014-15 season, Concordia has set a new program standard for most wins over a four-year stretch, breaking the record that had been established by the 2001-05 teams (123-21).
On the other hand, Stillman is new to the national tournament experience. The Tigers were paced by the 18 points of Ki'Onna Likely, the team's leading scorer and rebounder all season. Stillman College is located in Tuscaloosa, Ala.
Said Olson, "They're a team that struggles from the perimeter so we wanted to make sure we took away their inside game. I thought our kids did a nice job with that."
The Bulldogs' hopeful march through the Liston Bracket will continue on Friday when they clash with fourth-seeded Taylor (Ind.) at 10:15 a.m. Taylor defeated fifth-seeded Northwest Christian (Ore.), 61-54, in the game that immediately followed Concordia's win. All tournament games can be viewed live via NAIAnetwork.com (fee required). Additionally, 104.9 Max Country will be on site for live radio coverage.