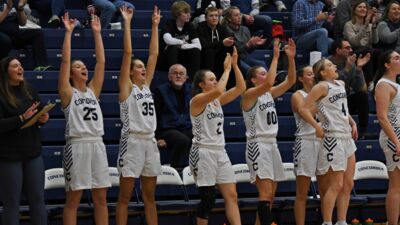 SEWARD, Neb. – The 22nd-ranked Concordia University Women's Basketball team is fresh off a fine week that saw it blow out both Mount Marty and Dakota Wesleyan. The Bulldogs carry a six-game conference win streak into the week, which will feature matchups with College of Saint Mary and Jamestown. Head Coach Drew Olson's squad currently resides in second place in the GPAC standings with an 8-3 league mark (11-6 overall). Concordia is a perfect 3-0 since the calendar flipped to 2022.
This Week
Wednesday, Jan. 12 vs. College of Saint Mary (10-6, 4-6 GPAC), 7 p.m.
--Live Webcast/Stats | 104.9 Max Country
Saturday, Jan. 15 at Jamestown (11-7, 4-6 GPAC), 2 p.m.
--Live Webcast | 104.9 Max Country
By the numbers
· Mount Marty was the first repeat conference opponent the 2021-22 schedule. The Bulldogs earned a season sweep of the Lancers while taking an 83-58 victory in Yankton, S.D., on Jan. 5. After sitting out the overtime win over Doane on New Year's Day, star guard Taysha Rushton returned to the lineup and scorched Mount Marty with a 27-point outburst. Kayla Luebbe (13) and Kendal Brigham (10) also reached double figures in scoring while coming off the bench. Concordia shot 48.3 percent (29-for-60) from the floor and flustered the Lancers into 27 turnovers. Eleven Bulldogs registered in the scoring column.
· Brigham and Mackenzie Toomey took the lead on a 17-0 run that closed the first half as part of the 90-58 home win over Dakota Wesleyan on Jan. 8. Toomey had already achieved a career point total by halftime and finished with 19 points, five rebounds and two steals. In addition, Rushton poured in 18 points (8-for-14 from the floor) and Luebbe filled the stat sheet with 11 points, six rebounds and three blocked shots. Another five Bulldogs scored seven or more points, including Brigham (nine), Lauren Baker (eight), Taylor Farrell (seven), Abby Krieser (seven) and Sadie Powell (seven). Bailey Conrad did her part with seven assists and Concordia shot 50.7 percent (35-for-69) from the floor while playing a hounding zone defense that held the Tigers to 29.4 percent (20-for-68) shooting.
· Rushton is on a fast track in terms of joining the program's 1,000-point club. She's already piled up 708 points over her first 47 career collegiate games. The Midland, Texas, native has boosted her scoring average from 14.4 points per game last season to 16.4 this season. Last week was an encouraging sign as she made 15-of-28 shots from the floor in an efficient couple of outings. Rushton is also contributing 2.9 rebounds, 2.4 assists and 1.5 steals per game. She was named First Team All-GPAC last season along with Taylor Cockerill, who happened to eclipse 1,500 career points last week as she plays her final collegiate season at NCAA Division II St. Edwards University of Austin, Texas.
· Toomey, who has made seven starts this season, has become a super sub. Not only did she get loose for a career high in the win over Dakota Wesleyan, she also added six points, four rebounds and four steals at Mount Marty. The Lincoln Southeast High School product leads the team in steals and ranks fifth among GPAC players with an average of 2.18 steals per game. Toomey is one of 10 Bulldogs averaging at least 5.4 points per game on the season. Her previous high for points in a game was 15 at Morningside back on Dec. 1.
· After three-straight games with shooting percentages below 40, Concordia heated up last week in shooting above 48 percent in both outings. Overall this season, the Bulldogs have been a relatively efficient team in shooting 42.0 percent from the floor and 32.9 percent from beyond the arc. Concordia ranks as a solid 3-point shooting team nationally, currently checking in at 20th in 3-point field goals per game (8.6) and 49th in 3-point field goal percentage (.329). Seven different Bulldogs have nailed at least 10 treys, led by 33 3-point field goals by Rushton (33-for-109). Baker has continued to be efficient from 3-point range, making 24-of-46 (.522) 3-point tries.
· The Bulldogs remain at No. 22 in the NAIA national poll with the most recent rankings have come out on Dec. 15. Since the release of that poll, Concordia has gone 3-2 with the two defeats being handed out by No. 1 Campbellsville University (Ky.) and No. 3 Thomas More University (Ky.) in action in Honolulu, Hawaii (Dec. 18-19). Based upon those results, Concordia stands a good chance at remaining in the top 25 that will be unveiled on Wednesday. According to Massey Ratings, the Bulldogs have played the 12th most challenging schedule in the NAIA so far. The profile for Concordia includes victories over No. 6 Wayland Baptist University (Texas), No. 13 Northwestern and No. 17 Dakota State University (S.D.), using the current rankings.
The opponents
College of Saint Mary is vastly improved as Head Coach Kirk Walker (fourth season) has upgraded the program. At 10-6 overall, the Flames have already far exceeded their win total from last season when they went 3-21. CSM won't typically play at the same fast pace as Concordia, but it has become a more capable scoring squad (67.4 ppg) behind Honnah Leo (11.8 ppg) and Alyssa Marsh-Contreras (11.8 ppg). The latter is a transfer from Peru State College. Most significantly, the Flames earned a 78-69 win at then 22nd-ranked Dordt on Dec. 1. CSM is coming off an 81-44 home win over Mount Marty this past weekend. The Flames last defeated Concordia on Nov. 15, 2005. Since then, the Bulldogs have won each of the past 18 series meetings.
Jamestown will host No. 23 Briar Cliff on Wednesday as it looks to shrug off a three-game skid. The Jimmies have begun 2022 with a difficult slate, going up against Morningside, Northwestern and Dordt. Jamestown gave Concordia all it could handle on Nov. 23 when Rushton's buzzer beater lifted the Bulldogs to a 69-67 win. This will be yet another meeting between Drew Olson and Thad Sankey, former Concordia Men's Basketball teammates. Sankey's squad is 7-1 at home and boasts stars in Hannah DeMars (14.3 ppg) and Kia Tower (12.4 ppg). Jamestown's most impressive win to date was a 78-75 overtime triumph over Dakota Wesleyan. The Bulldogs will be attempting to extend a series win streak against the Jimmies that stands at 13. Each of the last three matchups have been decided by margins of six points or less.
Next week
Concordia will draw the GPAC's two highest rated teams next week as it hosts No. 10 Morningside on Jan. 19 and then travels to No. 13 Northwestern on Jan. 22.