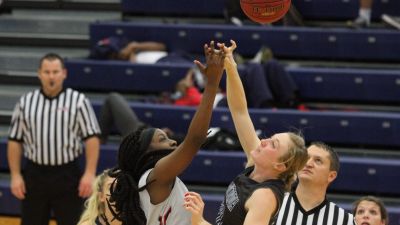 SEWARD, Neb. – Zone defense or whatever. These Bulldogs just don't let you breathe. On Saturday the 14th-ranked Concordia University women's basketball team completed a perfect weekend at the Cattle Classic by pestering visiting Oklahoma Wesleyan University to the tune of 31 turnovers in a 76-58 Bulldog victory.
Turnovers are no recipe to win inside Walz Arena, where 11th-year head coach Drew Olson's squad is 72-9 since the start of the 2011-12 season. Concordia, which blew away Friends University (Kan.), 95-59, on Friday, is now 3-1 overall.
Predominantly a man-to-man pressure defensive team throughout Olson's tenure, Concordia has switched things up this year to better fit its personnel. The results were especially impressive on Saturday as the Bulldogs limited the Eagles to 34.1 percent shooting and to just 15 made field goals for the entire afternoon.
"We're just now starting to get more confident in our zone," Olson said. "We're still learning what we need to do in the zone. We're still learning how opponents are playing against us and what we need to do differently. We're going to keep getting better at it. But yeah, it was a great defensive performance. We needed it."
To its credit, Oklahoma Wesleyan didn't pack it in after finding itself in a 24-9 hole in the first quarter. A Kayla Morgan three to open up the third period put the Eagles within two (35-33) before Concordia restored order with a 12-0 run kick started by a wide open Quinn Wragge triple. Freshman Philly Lammers capped it off with a bucket in the paint. The Bulldogs ballooned their lead to as large as 20 points after freshman Colby Duvel banked in a trey in the fourth quarter.
Lincoln Christian High School product Dani Andersen got white hot early. She nailed three shots from long range while the game was barely three minutes old. She's yet another weapon at Olson's disposal. She knocked down seven 3-pointers on the weekend on her way to earning All-Cattle Classic honors alongside teammate Quinn Wragge.
Andersen has been a great compliment to a team loaded with depth.
"It's awesome how close we are and how we have each other's backs," Andersen said. "We get super excited for each other. If you see our bench at all, we get super pumped when some makes a three. It's awesome to be part of that."
Andersen and Lammers both put up 15 points and Wragge added 13. Lammers also grabbed seven rebounds and six steals. Making her second-straight start at point guard, Shelby Quinn contributed nine points and six assists. There were plenty of other contributors, and on any given day, it's difficult to predict which Bulldog will shine the most amid the array of weaponry. Said Olson, "Anybody can have a big night."
Shelby Kirby topped the Eagles (2-2) with 13 points. Kayla Morgan chipped in 12, though she went just 3-for-10 from the floor.
Ready or not, conference season will arrive next week. The Bulldogs will head to Orange City, Iowa, on Wednesday to take on a dangerous Northwestern team that is off to a 4-0 start that has included a win over No. 12 University of Jamestown (N.D.), a future member of the GPAC.
All-Cattle Classic Team
Dani Andersen, Concordia
Patience Gitua, Oklahoma Wesleyan
Morgan Hill, Doane
Shann Sellers, Friends
Quinn Wragge, Concordia