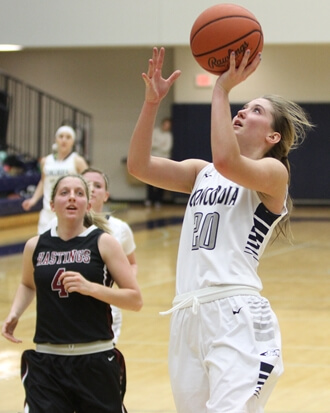 Concordia escapes with 63-62 win over Midland University
Concordia University escaped with a 63-62 women's basketball win over Midland University on Wednesday evening in Seward. Amber Kistler's free throw in the closing seconds proved to be the difference, as Concordia improved to 11-9 overall and 4-6 in conference play with the win. Midland University dropped to 11-11 overall and 3-7 in conference play with the loss.
Both teams struggled offensively for much of the first half. Concordia led by five (14-9) with just over 11 minutes remaining, but Midland used an 11-0 run to grab a 20-14 lead with less than seven minutes remaining in the half. Concordia scored the final seven points of the half to take a 34-27 lead into halftime.
Concordia led by as many as 14 in the second half. The Bulldogs led by nine (60-51) with just over three minutes remaining in the contest, but the visiting Warriors rallied late. A 6-0 run cut the Bulldog lead to three at 60-57. Following two made free throws by Kistler, Midland's Jami Thramer scored to pull the Warriors back within three at 62-59.
Concordia turned the ball over with less than a minute remaining in regulation, and Morgan Smeal hit a 3-pointer to tie the game at 62-62 with 20 seconds remaining. Concordia looked for the last shot, and Kistler (Minatare, Neb.) was fouled with less than five seconds remaining. She made one of two to give the Bulldogs a 63-62 advantage. A last-second shot by Midland fell short, and Concordia held on for the win.
Concordia was 20-of-64 (31.3 percent) from the field. The Bulldogs were just 6-of-24 (25 percent) from long range on the night. Concordia made 17-of-22 foul shots for 77.3 percent. The Bulldogs held a slim 41-39 rebounding advantage and totaled 12 assists on 20 made field goals.
Kistler finished with 15 points for Concordia in the win. Kristen Conahan (Omaha, Neb.) poured in 11 points off the bench, and Katie Rich (Tilden, Neb.) grabbed a team-high 11 rebounds.
Midland was 21-of-54 (38.9 percent) from the field. The Warriors were 6-of-20 (30 percent) from deep and 14-of-18 (77.8 percent) at the charity stripe.
Megan Torkelson scored 15 points to lead four players in double figures for the Warriors. Smeal added 12 points, while Jami Thramer and Tricia Hoffman scored 11 apiece.
Concordia travels to Briar Cliff University on January 22.