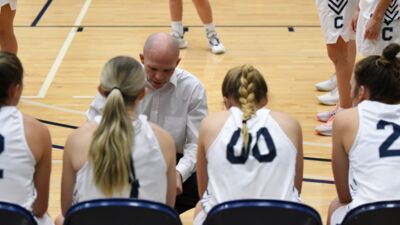 MITCHELL, S.D. – Four days after ending the regular season at the Corn Palace, the Concordia University Women's Basketball team found itself right back in Mitchell, S.D. Unfortunately, the Bulldogs were on the wrong end of the result once again in what amounted to a 68-52 GPAC tournament quarterfinal loss to Dakota Wesleyan on Wednesday (Feb. 23). As the GPAC's No. 6 seed, Concordia opened this tournament in more of an underdog rule following GPAC tournament title appearances in each of the previous five seasons.
Head Coach Drew Olson's squad now stands at 16-13 overall. Having played one of the nation's most difficult schedules, the Bulldogs expect their season to continue with a national tournament bid. They will attempt to put Wednesday's loss behind them.
"I thought we played hard, just not good enough against a great defensive team on their home floor," Olson said. "We started off really well and had a lead going into the second quarter. We just struggled to get easy baskets – it just didn't feel like the ball bounced our way. It was kind of bizarre at times. We played hard and we were right there. The final score wasn't really indicative of how close the game was."
Concordia was as close as seven points with fewer than five-and-a-half minutes remaining after Abby Krieser connected from the outside. A chance to get just a little bit closer was thwarted when a potential breakaway layup for the Bulldogs didn't quite come to fruition and the Tigers capitalized with a trey to beat the shot clock buzzer. Concordia failed to make a basket over the final five minutes as the game slipped away.
A shooting percentage of 29.0 (18-for-62) gave the Bulldogs little margin for error. Taysha Rushton had a quiet first half before finishing with 13 points (4-for-12 from the floor). Sadie Powell equaled Rushton's team high scoring output while adding three rebounds and two blocked shots. Off the bench, Mackenzie Toomey totaled 11 points, four rebounds and two steals. Foul trouble for Rylee Pauli compounded the team's shooting struggles.
The Concordia press was unable to speed the game up in quite the way it wanted it to. Not only that, the Tigers (24-7) dominated the boards, 41-21. Four DWU players reached double figures in scoring led by 20 points from Jada Campbell. Teammate Matti Reiner (11 points, 11 rebounds) produced a double-double. The Tigers won two of three series matchups this season with the Bulldogs, who had the upper hand when the two sides met in Seward.
Concordia wound up plus-three in turnover margin, but it wasn't enough to overcome its offensive issues or its rebound disadvantage. Said Olson, "Our press wasn't as effective. They did a great job. They're a good team and really well-coached."
Dakota Wesleyan advanced to play in the GPAC semifinals on Saturday. Meanwhile, the Bulldogs will wait for the national tournament selection show, which is scheduled to take place at 6 p.m. CT on Thursday, March 3. The opening round of the NAIA Women's Basketball National Championship tournament will be held March 11-12.