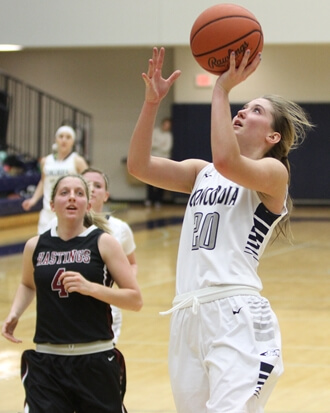 Concordia continues GPAC play at Dakota Wesleyan on Sunday
Concordia University travels to Dakota Wesleyan University on Sunday for a 2 p.m. contest against the Tigers.
The Bulldogs improved to 10-8 overall and 3-5 in GPAC play with a 74-63 win over Nebraska Wesleyan on Wednesday evening. Concordia is currently eighth in the GPAC standings.
Concordia cruised to a 95-63 win over DWU earlier this season. Amber Kistler (Minatare, Neb.) led four players in double figures with 21 points. Katie Rich (Tilden, Neb.) scored 14, and Kristen Conahan (Omaha, Neb.) added 13 off the bench. Kristin Miller (Jefferson City, Mo.) also reached double figures with 10 for the Bulldogs. Concordia totaled 19 steals, and DWU turned it over 28 times in the first meeting.
It's been a difficult year for Dakota Wesleyan. The Tigers are just 5-14 overall and 1-8 in conference play so far this season.
Fans can tune into a live webcast of the game at the link below. Live stats will also be available at the link below.
Webcast - http://www.mitchellrepublic.com/pages/drtvsports
Live Stats - http://www.dwu.edu/athletics/stats/mbask/