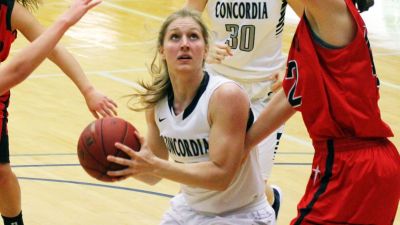 SEWARD, Neb. – Ranked second nationally, the Concordia University women's basketball team closed out 2016 with 15-straight victories. The Bulldogs will take the floor for the first time in 2017 when Briar Cliff visits for a 6 p.m. CT tipoff on Wednesday. It will be Fan Appreciation Day inside Walz Arena, where spectators will be admitted to the women's and men's games free of charge.
Concordia will also be at Dordt for a 5 p.m. CT start time on Friday in a rescheduled affair that had originally been slated for Dec. 16. Both of this week's games will be carried live by 104.9 Max Country. Wednesday's contest can be seen live via the Concordia Sports Network.
Eleventh-year head coach Drew Olson's squad last played Dec. 19-20 at the Hoop N Surf Classic in Honolulu, Hawaii. During the team's stay on the island, it defeated No. 17 Indiana Tech, 68-57, and No. 8 College of the Ozarks (Mo.), 78-68. Of Concordia's 15 wins, 13 have come by double-digit margins and five have come against nationally-ranked opponents. The current run marks the fourth time that the Bulldogs have won 15 or more games in a row during Olson's tenure.
Following the two wins in Hawaii, junior guard Mary Janovich picked up her second GPAC player of the week award already this season. She was also named the NAIA Division II national player of the week on Dec. 6. Over the past six games she has averaged 15.5 points while going 36-for-60 (.600) from the floor. A dominant defensive force, Janovich is averaging 3.0 steals on the season and now ranks 20th in program history for career thefts (157).
Janovich (12.3 ppg) ranks second to freshman Philly Lammers (12.6 ppg) for the honor of team scoring leader. Lammers is attempting to do the same that thing now sophomore Quinn Wragge did last season – pace the Bulldogs in both scoring and rebounding as just a rookie. A product of Millard West High School, Lammers recorded the first double-double of her career in Hawaii. She's started all 16 games and is shooting 63.7 percent from the floor.
A perfect 6-0 at home this season, Concordia has made Walz a house of horrors for opponents. The Bulldogs are 76-9 at home since the start of the 2011-12 campaign. They enter this week with a 10-game home winning streak.
Concordia maintains lofty national rankings in many key statistical categories, including second in steals per game (17.0), second in turnover margin (plus-9.4), third in scoring margin (plus-24.4), fifth in scoring offense (84.3), sixth in 3-point field goals per game (9.4), eighth in free throw percentage (.768), 11th in field goal percentage (.442), 11th in assist-to-turnover ratio (1.11), 21st in 3-point field goal percentage defense (.278), 25th in scoring defense (58.9) and 28th in field goal percentage defense (.366).
Briar Cliff (9-7, 4-3 GPAC) possesses a standout freshman post player of its own in Kailey Burke (13.9 ppg, 5.8 rpg), the lone GPAC rookie with a higher scoring average than Lammers. In terms of rankings, the Chargers are coming off their most impressive win of the season – a 70-66 triumph over No. 10 University of Jamestown (N.D.) on Dec. 30. Briar Cliff was ranked 15th in the national preseason poll, but has since dropped from the top 25.
Meanwhile, Dordt (8-8, 0-6 GPAC) remains in search of its first conference victory of the season. The Defenders have fallen in each of their last eight GPAC games. Recently, they won three-straight times outside the conference before a 72-52 loss to Friends University (Kan.) on New Year's Eve. No Dordt player averages in double figures for a team that has struggled offensively (62.4 ppg, 37.2 percent field goal shooting).
Projected lineups
Concordia: 15-1, 8-0 GPAC
G – Shelby Quinn: 7.3 ppg, 4.7 apg, 2.9 rpg, 2.2 spg, .375 fg%
G – Dani Andersen: 10.1 ppg, 1.7 spg, .389 fg%, .365 3-pt fg%
G – Mary Janovich: 12.3 ppg, 3.8 apg, 3.7 rpg, 3.0 spg, .549 fg%
F – Quinn Wragge: 11.1 ppg, 5.0 rpg, 2.1 spg, .577 fg%, .733 ft%
F – Philly Lammers: 12.6 ppg, 6.4 rpg, 2.4 spg, 1.1 bpg, .637 fg%
Briar Cliff: 9-7, 4-3 GPAC
G – Alyssa Carley: 6.5 ppg, 1.7 apg, 1.4 spg, .442 fg%, .432 3-pt fg%
G – Julie Targy: 2.6 ppg, 2.4 rpg, 1.8 spg, .387 fg%
F – Morgan Hansen: 9.3 ppg, 4.5 rpg, 2.6 apg, 2.3 spg, .391 fg%
F – Kailey Burke: 13.9 ppg, 5.8 rpg, 1.3 spg, .521 fg%, .605 ft%
C – Kaylee Blake: 8.3 ppg, 4.8 rpg, 1.9 apg, 1.1 spg, .473 fg%
Dordt: 8-8, 0-6 GPAC
G – Kim Kroeze: 8.8 ppg, 5.1 rpg, 2.8 apg, .360 fg%
G – Kenzie Bousema: 7.3 ppg, 3.8 rpg, 1.1 spg, .471 fg%
G – Annie Rhinesmith: 5.9 ppg, 2.8 apg, 2.3 rpg, .302 fg%
F – Paige Engbers: 8.6 ppg, 3.4 rpg, 1.0 spg, .359 fg%, .358 3-pt fg%
F – Shae Pollema: 8.8 ppg, 5.1 rpg, 2.8 apg, 1.2 spg, .360 fg%