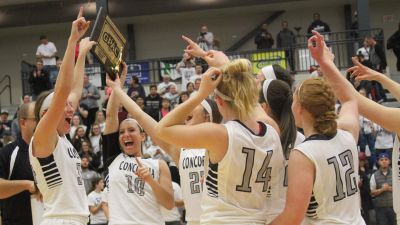 BRACKET | CUNE national tournament press guide
SEWARD, Neb. – There were no feelings of uneasiness on Selection Wednesday for the Concordia University women's basketball team, which has known for weeks that it would make up part of the field at the 2017 NAIA Division II Women's Basketball National Championships. The GPAC regular season and tournament champion Bulldogs now get set for their national tournament first-round date with eighth-seeded Bryan College (Tenn.). The two sides will square off at 12 p.m. CT next Wednesday (March 8). All 31 games of the national tournament will take place inside the Tyson Events Center in Sioux City, Iowa.
Named GPAC Coach of the Year for the second time in his career on Wednesday, Drew Olson will lead Concordia onto the national stage for the ninth time during his 11-year tenure. For the third time under Olson, the Bulldogs (31-2) have piled up more than 30 wins in a season.
After the thrill of Tuesday's 78-77 overtime win the GPAC tournament title game, Concordia (one of four No. 1 seeds in the national bracket) is riding high into its 16th all-time appearance at the national tournament. For a team that has dominated most of their games this season, the experience of Tuesday night should only help the Bulldogs when times get tight in Sioux City.
"At some point in the tournament we're going to be faced with some adversity," Olson said. "For our kids to have the composure to find a way to win in that game was awesome. We were down early, then up 11 and then lose the lead. There were a whole bunch of situations where we could have panicked and we didn't. Our kids did a great job of keeping their composure. We showed that we've learned from the two losses that we had in the win last night."
Before the 2016-17 squad can place itself in the same elite company as the four previous teams in school history to surpass 30 wins, it must make its mark at the national tournament. Olson took the 2014-15 group, led by national player of the year Bailey Morris, to the title game and also guided the 2011-12 squad to the national semifinals. Two other teams in school history have been among the last four standing: the 2002-03 and 2004-05 editions, both coached by Todd Voss.
What makes this team unique from past years its signature zone press, which Olson tweaked this season to better fit his personnel. The results have been nothing short of incredible. Led by GPAC defensive player of the year Mary Janovich, Concordia has forced 882 turnovers for an average of 26.7 per game. Inside, Philly Lammers has also been a defensive force, ranking second in the GPAC in blocks (1.22) and fifth in steals (2.09).
For unfamiliar nonconference opponents, the press can be devastating.
"It's definitely new and different and I don't think teams can really simulate that or practice that to prepare for it," Olson said. "I think it gives us a little bit of an advantage. When you get to the national tournament, by the time you're in that third round you're going up against a really good team and they've probably seen you play there a couple times. You just need to play your best basketball. That's what matters the most."
As if more evidence is needed to enhance the profile of the nation's second ranked team, the Bulldogs are the first GPAC squad since the 2010-11 national championship Northwestern group to place three players on the all-conference first team. Those accolades went to Janovich, Lammers and sophomore Quinn Wragge. They're the three most decorated players, but there's also sharpshooting guard Dani Andersen and steady senior point guard Shelby Quinn and a host of key bench players.
On the flip side, the Lions (18-14) have made their way to the national tournament after winning the Appalachian Athletic Conference Tournament. Sophomore guard Amber Levi averages a team high 16.5 points per game for the Lions. Bryan stood below .500 overall (13-14) before going on its current five-game win streak. Head coach Jason Smith has led the program to the national tournament in two of the past three seasons. The Lions and Bulldogs also met in the first round in 2015. Concordia cruised past Bryan, 76-35, on its way to reaching the national title game.
The winner between Concordia and Bryan will advance to play in the second round against either fourth-seeded IU Northwest (Ind.) (25-6) or fifth-seeded Cardinal Stritch (Wis.) (24-6). That contest will be played Friday, March 10 at 10:15 a.m.
NOTES:
In its first 15 appearances at the national championships, Concordia has posted a record of 22-15 with four trips to the national semifinals and four quarterfinal finishes. The Bulldogs are 9-6 overall in first-round games, including an 8-4 mark in the last 12 first-round contests. All of the program's 16 national qualifying seasons have come since 1992 – the same year the NAIA split into two divisions for both men's and women's basketball.
The 2015 national championships saw Concordia advance to the national title game for the first time in program history. National player of the year Bailey Morris led the way, averaging 17.6 points at the tournament in leading the Bulldogs to wins over Bryan College (76-35), College of Saint Mary (92-82), University of Jamestown (76-59) and Briar Cliff (72-62). Concordia was edged in the championship game, 59-57, by top-ranked Morningside.
Concordia carries a record of 11-2 this season against teams that have qualified for the national tournament. The 11 wins have come over College of the Ozarks (Mo.), Dakota Wesleyan (twice), Hastings (twice), Indiana Tech, Morningside (twice) and Northwestern (three times). The two losses were against Dakota Wesleyan and Marian University (Ind.).
Nine of the 15 players on the Bulldogs' official national tournament roster have prior experience at the national tournament. These nine individuals have combined for 30 career games over appearances from 2014 through 2016. Shelby Quinn has played in all seven of the team's national tournament games over the previous three seasons. Another four players have at least three games of national championships experience: Laurel Krohn (6), Mary Janovich (5), Devin Edwards (4) and Brenleigh Daum (3). Janovich sat out last year's first-round loss to Goshen (Ind.), but was a major factor in Concordia's run to the 2015 title game. Over five tournament games that season, Janovich totaled 57 points and was 13-for-24 from beyond the arc.
Morris racked up 149 points over her 11 career national tournament games with her career best at the Tyson Events Center being 34 points in the second-round win over College of Saint Mary in 2015. During that same game, the native of Clay Center, Neb., became the first Bulldog ever to reach 2,000 career points. She finished with 2,054 points during her stellar four seasons in Concordia navy and white.
In the program's first 37 games at the national tournament, the Bulldogs have averaged 71.6 points per game (2,648 total points) while allowing an average of 64.9 points (2,400 total points). The school record for most team points scored in a single tournament game was broken in 2015 in the 92-82 win over College of Saint Mary. The Bulldogs' stingiest defensive effort occurred in 2005 when they held Western Baptist to just 28 points in a 70-28 first-round victory.
Head coach Drew Olson has been at the controls for each of Concordia's past nine national tournament appearances (including 2017). Olson also helped the Bulldog men to two national tournaments as a player and was part of three such trips to the grand stage as an assistant men's coach at Bellevue University.
Olson became the fifth coach in program history to lead the Bulldogs to the national tournament when he made his first appearance as head coach in 2008. Now with nine national tournament appearances, Olson has six more than Todd Voss for the most among head coaches in school history. Here are the all-time records for Bulldog coaches at the national tournament:

Drew Olson: 11-8 (nine appearances; one national title game appearance; two Fab Fours; two quarterfinal finishes)
Todd Voss: 8-3 (three appearances; two Fab Fours; one quarterfinal finish)
Mark Lemke: 2-2 (two appearances; one quarterfinal finish)
Micah Parker: 1-1 (one appearance)
Carl Everts: 0-1 (one appearance)

Concordia has made a living in the NAIA national rankings. It has appeared in 75-straight top 25 polls dating back to the 2011-12 preseason rating. Since Dec. 13, 2016, the Bulldogs have remained at No. 2 in the national poll. Concordia is aiming to finish a season with a national ranking for the eighth time under Olson. The program's highest final ranking was No. 2 in 2015. Three-straight senior classes have played for ranked Bulldog teams for their entire collegiate careers.
Great Plains Athletic Conference members have won 12 of the last 16 NAIA Division II Women's Basketball National Championships. Northwestern has five national titles during that stretch while Morningside has four and Hastings three. The GPAC had advanced at least two teams into the Fab Four six-straight years until the streak was snapped in 2014. Two or more GPAC teams have reached the semifinals in 13 of the past 16 years. In 2012, Concordia, Briar Cliff and Northwestern all appeared in the semifinals. Then in 2015, the semifinals were GPAC exclusive as Briar Cliff, Concordia, Hastings and Morningside were the last four left standing.