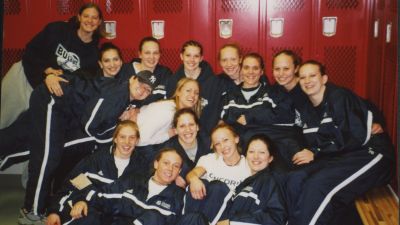 Feb. 12, 2003 – Concordia 65, Hastings 64 | BOX SCORE
"That's when you know you're good – when the other fans care enough to boo."
Our classic moments series continues with an examination of the "battle for the ages" that took place between Concordia and Hastings in women's basketball in February 2003.
Head coach Todd Voss couldn't believe it. Fans were out in force in anticipation when Voss brought his No. 1-ranked Bulldogs to Hastings for a big-time conference clash with the second-ranked Broncos on Feb. 12, 2003. "That just doesn't happen in women's college basketball," Voss said of the pre-game festivities complete with tailgating. Hastings officials estimated that 2,500 fans made their way to Osborne Family Sports Arena to watch the defending national champion Broncos. Concordia had already defeated Hastings in Seward earlier that season. The Broncos wanted revenge. It was No. 1 versus No. 2. It had all the appeal anyone could want.
It didn't disappoint. Recalled Voss, "We got there and we got booed even before we got to the arena because there were people lined up. I had the good fortune to coach in a number of great arenas and in big venues in big games at various levels. As far as game atmospheres, that game at Hastings that 2002-03 season was as good as or better than any atmosphere I was ever part of in my coaching career."
The Game lived up to the hype. Though the Broncos built an 11-point lead in the first half, a Concordia squad led by the likes of Sarah Harrison, Elizabeth Rhoden and Kari Saving never flinched. The Bulldogs went on a 12-0 second-half spurt and grabbed a late lead in a pulse pounder that earned its place in program folklore. With her team down one, Harrison nailed a 10-foot turnaround jumper over GPAC Player of the Year Elizabeth Herbek with 3.2 seconds left. In a postgame exchange with the Omaha World-Herald, Harrison told the outlet, "I really didn't think about it. The play was for anyone. I had it, so I shot it."
The Bulldog faction of the audience exploded. A photographer at the game captured the moment in an image that somehow ended up as a massive poster inside the arena at Hastings. Recalled Voss, "From the spot where the picture was taken you can see all of these hands up in the air. Well those are actually Bulldog fans, not Bronco fans, behind our bench."
Harrison ended up with 17 points and seven rebounds in a battle etched in her memory for life. Said Harrison, "I can remember when we were running out for warmups their crowd was booing us. Naomi Laune looked at me and said, 'That's when you know you're good – when the other fans care enough to boo.' I think that's the memory that sticks out the most. I don't know if we actually knew how good we were until a moment like that."
The Grand Island Independent referred to the game as a "battle for the ages." The final seconds were chock-full of drama. Prior to her heroic shot, Harrison had goofed by being called for a lane violation with 18 seconds left in the game. That gaffe nullified a game-tying free throw by teammate Kayla Luehmann. Nursing a 64-63 lead, Hastings misfired on the front end of a one-and-one to set up Harrison's game-winner. The Broncos' Carly Stucky had one final attempt from 30 feet that rimmed out. Concordia celebrated a 65-64 win and stayed undefeated at 29-0.
Afterwards Harrison told the Lincoln Journal Star, "I'm not going to lie to you, this was a really fun win for us." Commented Voss, "This was a great learning situation against any team, but especially against a team like Hastings."
Rhoden added 15 points, five assists and four steals while Saving netted nine points and grabbed six rebounds. Luehmann topped both sides with eight boards as the Bulldogs held a 40-31 advantage in rebounding. Amy Streuter notched eight points off the bench. On the other side, Stucky led Hastings with 19 points and Herbeck added 15 points and seven rebounds. The Broncos dipped to 23-4 overall at the time.
The slugfests between Concordia and Hastings this past 2019-20 season may have reminded some loyal fans of the classic battles from early in the GPAC era. The Bulldogs of 2002-03 featured some of the best players to ever wear the navy and white. Five players on that squad piled up more than 1,000 career points: Harrison (1,800), Saving (1,773), Rhoden (1,337), Keyna Kobza (1,110) and Amy Streuter (1,013).
Indeed, depth was a major factor for the success of the 2002-03 squad. Wrote the Sioux City Journal leading up to the national tournament that March, "The attribute that may have kept Concordia perfect through its first 33 games is depth. No fewer than 11 players have totaled at least 115 points on the season."
Indeed, the Bulldogs rattled off 33-straight victories to begin the season and won the GPAC regular-season title with a perfect 16-0 league mark. Voss was named the GPAC Coach of the Year. Concordia went on to reach the semifinals of the national tournament. It held the No. 1 ranking in NAIA Division II for nine-straight polls leading into the national tournament. Out of the 36 wins produced that season, none were more memorable than the one that occurred that Wednesday night in Hastings.
In another statement provided to the Grand Island Independent, Voss said, "We knew coming in this would be a great game and it was all the way to the end. It was an unbelievable atmosphere to experience."