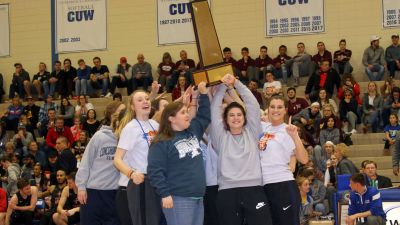 SEWARD, Neb. – Fresh off the 28th Concordia Invitational Tournament title in program history, the top-ranked Bulldogs now enter the stretch run of conference play with their unbeaten season still intact. With six regular-season games remaining, CUNE (24-0, 14-0 GPAC) owns a two-game lead over No. 10 Northwestern (12-2 GPAC) atop the league standings. Before looking ahead to Saturday's showdown with the Red Raiders, the Bulldogs have their sights set on claiming a win in Fremont on Wednesday.
This week's schedule
Wednesday, Jan. 31 at Midland (11-14, 6-9 GPAC), 6 p.m.
Saturday, Feb. 3 vs. No. 10 Northwestern (17-5, 12-2 GPAC), 2 p.m.
Live radio coverage of this week's action will be provided by 104.9 Max Country with Tyler Cavalli again on the call. Midland will feature a live webcast on Wednesday HERE while the Concordia Sports Network will carry Saturday's game HERE.
NOTE: The first 100 students at Saturday's game will receive a free T-shirt, courtesy of the women's basketball program. The contest has been declared a white out.
Head coach Drew Olson has been at the controls for nine CIT titles since beginning his tenure prior to the 2006-07 season. Over the past five years, the Bulldogs have taken ownership of CIT, winning all 10 games at the event while doing so by an average margin of 30.8 points. Behind 2018 CIT MVP Dani Hoppes, CUNE trounced Concordia University, Ann Arbor, 104-66, and then Concordia University, Chicago, 102-56. Philly Lammers joined Hoppes on the all-tournament team. Hoppes went 10-for-19 from 3-point range while playing stellar defensively over the CIT weekend. Meanwhile, Lammers piled up 31 points in just 35 minutes of action.
No. 11 Hastings (18-5, 9-5 GPAC) posed a much more serious threat, among last week's opponents. Mary Janovich (18 points, four steals) starred in what resulted in the Bulldogs' 10th win this season over teams currently ranked in the top 25 national poll. In regards to the national rankings, CUNE checked in at No. 1 for the second-straight poll, as announced in a release on Jan. 23. The Bulldogs earned 11 of 12 first-place votes while continuing to maintain the top resume of résumé of any NAIA women's basketball team. CUNE has played the nation's No. 1-ranked schedule.
The Bulldogs cruised to an 85-63 win over Midland in Seward on Nov. 15. One of the Warriors' top players has been former Bulldog Maddie Egr, who averages 12.4 points and 6.2 rebounds per game. The junior has started all 25 of the team's games. Midland's top player is Joelle Overkamp, who puts up 16.5 points per outing and shoots 40 percent from 3-point range. Head coach Shawn Gilbert's group is still looking to get over the hump against the conference's top five teams, all nationally ranked.
CUNE felt fortunate to escape Orange City, Iowa, with an 84-80 win on Dec. 15. The Red Raiders held a lead as late as the 2:30 mark of the fourth quarter before the Bulldogs edged them out late. Since then, Northwestern has rattled off nine wins in a row, including three over ranked conference foes: No. 8 Dakota Wesleyan, No. 11 Hastings and No. 13 Morningside. Head coach Chris Yaw's squad features a dynamic trio of Kassidy De Jong (18.0 ppg), Anna Kiel (14.8 ppg) and Darbi Gustafson (14.8 ppg).
Concordia will spent plenty of time in Sioux City, Iowa, next week with trips to Briar Cliff (8-16, 5-9 GPAC) on Feb. 7 and to No. 13 Morningside (18-7, 11-4 GPAC) on Feb. 10 upcoming.
Projected lineups
Concordia (24-0, 14-0)
G – MacKenzie Helman: 4.8 ppg, 3.3 apg, 2.3 rpg, 1.8 spg, .348 fg%, .337 3-pt fg%
G – Dani Hoppes: 11.2 ppg, 1.8 rpg, 1.8 spg, 1.5 apg, .416 fg%, .385 3-pt fg%
G – Mary Janovich: 9.6 ppg, 3.1 apg, 2.5 rpg, 2.2 spg, .519 fg%, .465 3-pt fg%, .826 ft%
F – Quinn Wragge: 13.8 ppg, 5.5 rpg, 2.0 apg, 1.7 spg, .643 fg%, .825 ft%
F – Philly Lammers: 12.8 ppg, 8.3 rpg, 2.4 spg, 1.3 bpg, .504 fg%, .698 ft%
Midland (11-14, 6-9)
G – Amanda Hansen: 10.4 ppg, 2.8 apg, 2.0 apg, 1.4 spg, .392 fg%, .254 3-pt fg%, .611 ft%
G – Megan Kucks: 9.2 ppg, 3.2 apg, 2.6 rpg, 1.0 spg, .357 fg%, .391 3-pt fg%, .791 ft%
G – Joelle Overkamp: 16.5 ppg, 7.2 rpg, 2.3 apg, 2.2 spg, .454 fg%, .400 3-pt fg%, .841 ft%
G – Madison Severson: 7.0 ppg, 2.8 rpg, 2.0 apg, 1.4 spg, .410 fg%, .456 3-pt fg%, .808 ft%
F – Maddie Egr: 12.4 ppg, 6.2 rpg, 1.0 spg, .538 fg%, .679 ft%
Northwestern (17-5, 12-2)
G – Renee Maneman: 8.9 ppg, 8.7 apg, 4.0 rpg, 1.9 spg, .471 fg%, .696 ft%
G – Paige Danner: 7.3 ppg, 2.4 rpg, 1.7 apg, 1.5 spg, .371 fg%, .351 3-pt fg%, .938 ft%
G – Kassidy De Jong: 18.0 ppg, 7.6 rpg, 1.6 apg, 1.3 spg, .484 fg%, .780 ft%
F – Haley Birks: 8.2 ppg, 4.3 rpg, 1.8 apg, 1.2 bpg, .567 fg%, .857 ft%
F – Darbi Gustafson: 14.8 ppg, 7.9 rpg, .587 fg%, .788 ft%