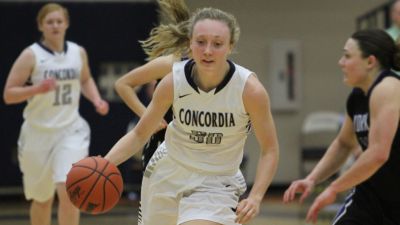 SEWARD, Neb. – The 14th-ranked Concordia University women's basketball squad used its patented depth to wear down visiting Mount Marty in Saturday afternoon's GPAC grinder. The Bulldogs put together a 16-4 second-half splurge to pull away for a 77-59 victory inside Walz Arena.
Tenth-year head coach Drew Olson's squad won for the third time in four days in the process of improving to 7-3 overall and 4-3 in conference action. Concordia has won each of the last 10 meetings with the Lancers.
"I was really impressed with how we played, especially from the second quarter through the fourth quarter," Olson said. "Defensively our effort was awesome. We really stuck to the scouting report. In the first quarter we kind of lost our heads at times. We just gave them way too much space.
"We got back to the game plan and played really well."
At the 4:51 mark of the third quarter, the Bulldogs held a modest 46-44 advantage. That changed in a hurry when Concordia rattled off nine-straight points. Brenleigh Daum capped the run with one of her three triples on the day. The lead then swelled in the fourth quarter as Olson's squad grew an advantage as large as 20 points.
Mount Marty (6-5, 2-4 GPAC) struggled mightily on the offensive end over the game's final 30 minutes. The Lancers went 9-for-17 from the field in the opening quarter before Concordia dug in with a strangling defensive effort. Mount Marty shot only 20.4 percent (10-for-49) over the last three quarters.
Better attention to the tendencies of the Lancer players keyed the stifling Bulldog defensive work.
"We had a scouting report," freshman Quinn Wragge said. "After the game, (Coach) said, 'I like when we actually use what's on our scouting report. That's what we did for the second, third and fourth quarters. We freaked out a little in the first quarter, but then we settled down and did what we were supposed to do."
Olson kept his team fresh by using nine players for 10 minutes or more. Three Bulldogs cracked double figures in scoring, led by the efficient Wragge (13 points). Shelby Quinn, who made her third-straight start, got hot early and finished with 11 points. Sydney Feller, Christmas socks and all, chipped in 10 points.
While its depth advantage didn't lend to the usual positive turnover margin (Mount Marty gave it away just 10 times), Concordia had plenty left in the tank coming off wins over Dordt and York College this week.
"It's really crucial," Wragge said of the team's depth. "Even today we could feel it. We were tired. But it was great to have home games. Having all these people here helps us when we're tired with everyone cheering."
The game changed on a dime after the second quarter whistle sounded. Mount Marty had the look of a serious challenger when Alex Kneeland's 3-pointer went down to provide a 25-22 Lancer lead. A mostly ugly second quarter ended with an 11-0 Concordia run and Wragge and company took a 37-33 advantage to the break.
Kneeland finished with a game high 18 points on 6-for-15 shooting. Raquel Sutera added 11 points and 10 rebounds.
The Bulldogs close their pre-Christmas slate next Friday (Dec. 18) with a trip to Sioux Center, Iowa, to take on Dordt (4-9, 1-6 GPAC). On Wednesday Concordia forced 31 turnovers and pummeled the Defenders, 86-54.