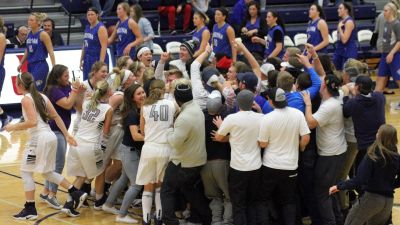 SEWARD, Neb. – The matchup between the seventh-ranked Concordia University women's basketball team and No. 1 Dakota Wesleyan lived up to the hype – and then some. In a rollercoaster ride, gritty senior guard Shelby Quinn led the Bulldogs to an 85-82 victory over the Tigers, who entered Saturday's showdown inside Walz Arena with an unblemished record.
The contest marked the second time in three seasons that 11th-year head coach Drew Olson's program has knocked off a No. 1-ranked team. Concordia also accomplished that feat when it won at top-ranked Morningside in the 2015 GPAC tournament title game. The Bulldogs are now 11-1 overall and 6-0 in conference play. They are the only team still unbeaten in GPAC games.
"It was the character of our team being calm and composed in those tough situations," said Olson while explaining how his team beat the No. 1 team despite 36.2 percent shooting. "Shelby Quinn is the demeanor of our team during those moments. She just did such a great job of taking care of the basketball and being aggressive when she needed to. Then obviously you have to get stops. I thought that the last three or four possessions, defensively we were really good."
It can be easy to overlook Quinn on a team that possesses proven stars such as Mary Janovich and Quinn Wragge as well as impact newcomers Dani Andersen and freshman Philly Lammers. But Quinn took a backseat to no one in the most significant contest of the season thus far. With Concordia down 82-79 after a Kristin Sabers trey put Dakota Wesleyan back in front, Quinn went to work.
The Bellevue East High School product dropped in the final six points of the game, all of which came from the foul line. Just under 10 seconds remained when Quinn's 19th and 20th points put the Bulldogs ahead by three. On the Tigers' final chance, Kristin Sabers air-balled a heavily contested corner three that wound up in the hands of Erica Herrold, whose follow-up shot was denied by Sydney Feller. Game over. Celebration on.
"It was awesome," Quinn said. "They're a really good team. When you're a basketball player, those are the kinds of games you want. You want to play in those games and you want to come out on top. Luckily we did today. It was a great atmosphere. We're thankful for the students who showed up. It was fun."
Though it struggled from the field, Concordia went 26-for-31 (.839) from the foul line and got stellar efforts from Janovich and Wragge. Janovich recorded 19 points, five assists and three steals before fouling out with just under three minutes left in the fourth quarter. Wragge was ultra-aggressive early on, putting up 10 of her 16 points in the first quarter. She also added eight rebounds, three steals and two blocks.
The Bulldogs seemingly had control in the infancy of the second quarter when it led 28-17. But Dakota Wesleyan (10-1, 4-1 GPAC) never went away and whittled its deficit down to five (43-38) at the half. The Tigers finally took the lead midway through the third quarter when Kynedi Cheeseman splashed in a three. Their biggest lead was five points.
The Tigers failed to score over the final two minutes. Erin Vieselmeyer blocked Dakota Wesleyan shots on back-to-back possessions in the last minute-and-a-half to help lead the Bulldogs back for a heart-thumping victory. Vieselmeyer chipped in four rebounds and three blocks. Lammers registered nine points and five boards.
Olson has a feeling his team may see Dakota Wesleyan sometime down the road in the postseason.
"I love it," Olson said of such big-time matchups. "Those are fun games to be a part of. It's great for the kids to experience. Hopefully it gets us ready for the national tournament."
The Tigers got a team high 20 points from Sabers. Three other Dakota Wesleyan players reached double figures in scoring for a squad that shot 42.4 percent (25-for-59) from the floor. The Tiger turned it over 24 times.
The Bulldogs face another big test on Wednesday when they are scheduled to play at defending GPAC champion and ninth-ranked Morningside (7-3, 2-2 GPAC). Tipoff from the Rosen Verdoorn Sports Center is set for 6 p.m. CT. On Saturday, the Mustangs defeated sixth-ranked College of the Ozarks, 83-63.