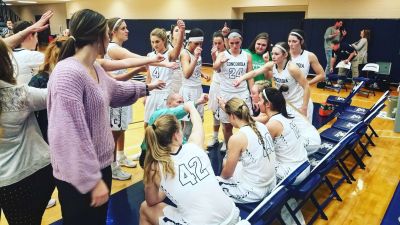 SEWARD, Neb. – A few days after a sluggish start in a win at Doane, the second-ranked Concordia University women's basketball team raced out to a 12-0 lead and never looked back while dominating a battle between perennial GPAC titans. The Bulldogs were particularly untouchable in the third quarter while handling No. 6 Morningside, 95-64, inside Walz Arena on Saturday afternoon (Jan. 6).
Twelfth-year head coach Drew Olson's squad continues to pile up impressive wins. Concordia has defeated nine teams currently ranked in the national top 25 poll (including six on the road). The Bulldogs now stand at 17-0 overall and at 9-0 in conference play after claiming their 28th-straight home victory.
"I thought we played really, really hard," Olson said. "Colby (Duvel) and Philly (Lammers) were just grinders down there. That was a big difference and that's how we were able to play fast in transition, especially in that third quarter."
Dani Hoppes (team high 18 points) got going early and the Mustangs (13-6, 6-3 GPAC) just couldn't keep Lammers or Duvel off the boards. Everything came unraveled in the third quarter for Morningside, which was outscored 32-9 over that 10-minute stretch. Concordia unleashed its cavalcade of stars. Seven Bulldogs tallied at least seven points on the afternoon.
The Mustangs had no way of keeping up on a day when Concordia turned in one of its better efforts of the season from a half-court defensive perspective. Morningside made only three field goals the entire third quarter and finished with a shooting percentage of 31.5 (23-for-73). It's been a week of treacherous contests away from home for the Mustangs, who also were beaten handily, 82-58, at No. 9 Dakota Wesleyan on Wednesday.
Named national player of the week on Tuesday, Lammers got the fourth quarter off and still managed to put up 14 points, grab 15 rebounds and dish out five assists. Lammers and company served as the aggressors all afternoon. The Bulldogs outrebounded Morningside, 57-41, and collected 13 steals. That effort easily overcame a hot first half for Mustang star Madison Braun, who led her squad with 17 points.
Hoppes and Lammers were joined in double figures in scoring by Duvel (11 points, seven rebounds) and sophomore MacKenzie Helman (11 points, four assists). Quinn Wragge added six points, eight rebounds and two blocked shots and Mary Janovich chipped in seven points, seven assists and two steals. In a game Concordia dominated in virtually every statistical category, it shot 46.7 percent (35-for-75) from the field.
"The second group was awesome today," Olson said. "Taylor's (Cockerill) not 100 percent but she made some big plays in that first half. Sydney Feller played a phenomenal game on both ends. Brenleigh (Daum) didn't shoot as well as she can, but she played with a lot of effort and made some hustle plays, got some deflections. That group is really big for us."
It's been smooth sailing for Olson's program in recent matchups with Morningside. In last season's two meetings, the Bulldogs won by scores of 80-52 and 90-60. Concordia just continues to knock off top-rated teams.
"One of our big motivators is to get better every day," Duvel said. "That's the mindset we have going into every day, whether it's practice or a game. We just stick to it and we're able to accomplish what we need to."
The Bulldogs will remain at home on Wednesday (Jan. 10) and host Briar Cliff (8-11, 5-4 GPAC) in a matchup set to get underway at 6 p.m. CT inside Walz Arena. Concordia swept two meetings from the Chargers last season, including a contest in Sioux City that saw the Bulldogs clinch the GPAC regular-season title outright. A victory would give Olson the 300th of his head coaching career.