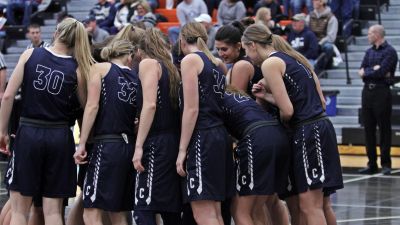 NAIA Division II national poll
SEWARD, Neb. – With nearly a month separating the release of NAIA Division II women's basketball coaches' polls, the Bulldogs were forced to wait before taking over the No. 1 national ranking. On Tuesday (Jan. 9), Concordia rose to the top spot for the first time since December 2012. Head coach Drew Olson's squad collected 11 of 12 first-place votes while totaling 312 points in the latest coaches' poll. The Bulldogs had been ranked second in the previous two ratings released by the NAIA.
Though it's been more than five years since Concordia reached No. 1 in the polls, it has often hovered inside the top five. The Bulldogs are the lone NAIA Division II women's basketball team to have made three national tournament semifinal appearances over the previous six seasons. Concordia has made a home inside the top 25 rankings for every poll since the start of the 2011-12 season, an active run of 79-consecutive polls.
This year's team owns the most impressive résumé of any NAIA women's basketball program. The Bulldogs have defeated nine teams that appeared inside the new top 25 poll: No. 3 College of the Ozarks (Mo.), No. 4 Saint Xavier (Ill.), No. 6 Jamestown (N.D.), No. 8 Dakota Wesleyan, No. 11 Hastings, No. 12 Morningside, No. 14 Northwestern, No. 18 St. Francis (Ill.) and No. 23 Mayville State (N.D.). According to Massey Ratings, Concordia has played the most difficult schedule in the nation among NAIA squads.
Olson's teams have finished inside the top 25 in eight of his first 11 seasons. The highest final national ranking was a No. 2 placement in 2015 after a national runner-up claim. Both the 2011-12 and 2016-17 squads were ranked third at the close of their seasons. The Bulldogs have finished inside the top 10 in four of the past six years.
The Bulldog women's basketball program has held the No. 1 ranking a total of 14 times, including the final nine polls of the 2002-03 season and the first four polls of the 2012-13 campaign. The 2014-15 Bulldogs became the first in program history to reach the national title game and was the fourth Concordia women's basketball team to advance to the national semifinals. The fifth semifinal appearance came in March 2017.
Preseason rankings under Olson
2017-18: 3
2016-17: 14
2015-16: 4
2014-15: 9
2013-14: 5
2012-13: 1
2011-12: 22
2010-11: 11
2009-10: 22
2008-09: 7
2007-08: NR
2006-07: NR
Final end of season rankings under Olson
2016-17: 3
2015-16: 19
2014-15: 2
2013-14: 13
2012-13: 9
2011-12: 3
2010-11: NR
2009-10: NR
2008-09: 8
2007-08: 10
2006-07: NR