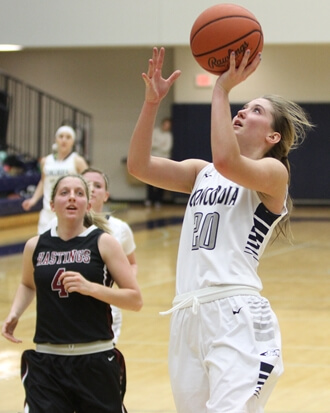 Bulldogs to take on Division I Nebraska-Omaha on Thursday
The 5th-ranked Bulldog women's basketball team steps out of GPAC play on Thursday evening for a road contest at Division I Nebraska-Omaha. The Bulldogs and Mavericks will tip off at 7 p.m. at Sapp Fieldhouse in Omaha. There will be a live webcast available for purchase just before game time, and live stats will also be available through the UNO website. Concordia and Nebraska-Omaha have not met since the 1975-76 season. UNO holds a 6-3 series advantage over Concordia.
Concordia moved to 17-2 on the season (10-2 GPAC) with a 79-67 win over Midland University on Tuesday evening in Seward. The Bulldogs got off to a slow start but used a strong second half to pull away for the win. Concordia currently sits atop the GPAC standings with their 10-2 league record. Concordia has four straight wins overall entering Thursday's contest with the Mavericks.
Kristen Conahan and Bailey Morris scored 17 points apiece in Concordia's win over Midland. Conahan knocked down five 3-pointers in the contest, while Morris poured in a career-high in points for the second straight game. Amber Kistler also reached double figures with 14 points. 10 players scored in the win, as Concordia's depth continued to play a big factor.
Scouting the Mavericks – UNO moved from NCAA Division II to Division I this year. They will open competition in the Summit League in the 2012-13 school year. UNO is 11-8 so far this season (7-1 at home). UNO and Concordia have three common opponents so far this year. Both teams have victories over Briar Cliff, College of Saint Mary and York College during the 2011-12 season thus far.
Paige Frauendorfer leads UNO in both scoring (13.1 points per game) and rebounding (9.3 per game). Jamie Nash adds 12.4 points per game, while Heather Pohl delivers 9.9 points per contest. The Mavericks will have a height advantage, as UNO has four players of at least 6-0 in their projected starting lineup.
Broadcast – UNO will provide a webcast of the game. It can be purchased at the UNO athletic website at; http://www.omavs.com/index.aspx?path=wbball
Live stats – UNO will provide live stats also available via their athletic website.
Up next – Concordia hosts Dakota Wesleyan on Saturday at the Walz Human Performance Complex