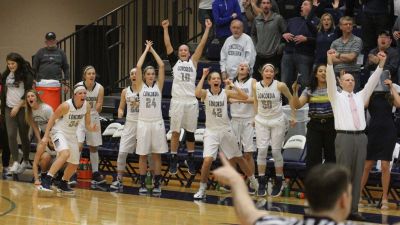 SEWARD, Neb. – You thought you knew stress – but then you watched the 2017 GPAC women's basketball tournament championship game. Already conference regular-season champs, Concordia rallied, built an 11-point fourth quarter lead that it watched melt away, went to overtime and then dodged not just bullets, but grenades at the buzzer on Tuesday night.
In the end, the home Bulldog fans tossed their defibrillators to the side and rushed the court in celebration of a 78-77 win over ninth-ranked Dakota Wesleyan. Concordia has now won the conference tournament four times in the GPAC era – three times under 11th-year head coach Drew Olson.
"No stress at all," Olson joked afterwards. "That was an amazing game. It was really fun to be part of. I think it's something our kids will always remember."
Breathing was hard in the closing seconds of overtime, well, regulation too for that matter. On the contest's final possession, the Tigers' Ashley Bray launched a trey that misfired. The ensuing two-hand tip by Sarah Carr came dangerously close to dropping through the bottom of the net, but the ball somehow rolled off the left side of the rim.
Chaos ensued. It was jubilation on one side and dejection on the other in a "wow, this is sports" moment that can't be staged nor duplicated.
"It was definitely nerve wracking," said sophomore Quinn Wragge. "We were all just like, play our defense. This is what we've been taught. Just get the rebound if it goes out."
For the second time in program history, the Concordia women's basketball team has swept GPAC regular-season and tournament championships. In a contest with all the intensity appropriate for a conference tournament final, the Bulldogs avenged their only GPAC loss. Walz hadn't seen this type of electric atmosphere since it played host to the Concordia Invitational Tournament a month ago. After two anticlimactic conference tournament wins leading into Tuesday, the Bulldogs got all they wanted from a worthy foe.
As part of a starring performance, Wragge pushed Concordia's lead to 66-55 by draining a pair of free throws with 5:03 left in the fourth quarter. It looked like the Bulldogs had finally wore down Dakota Wesleyan. Pulling away in the final stanza is just something Concordia does, but not this time.
"When we had them down 10, I felt really confident that we had them," Olson said. "Then Rylie Osthus, she carried them. She hit some huge shots. They did a great job finding ways to get stops. They're a really good team and I wouldn't be surprised if we saw them a fourth time."
The Tigers actually took a 70-69 lead on Amber Bray's bucket in the last 20 seconds of regulation. The Bulldogs forced the overtime after Philly Lammers went 1-for-2 from the foul line and Dakota Wesleyan came up empty following a timeout.
The largest lead for either team in overtime was three points. Lammers tallied six of Concordia's eight points in the extra session with two coming on free throws that proved to be the deciding points. Neither team scored after Lammers gave the Bulldogs a 78-77 advantage with 34 seconds remaining.
Concordia hung on and earned the right to cut down the nets inside its own arena. The Bulldogs, 31-2 overall, finished 17-0 at home, completing the program's first undefeated home season in the GPAC era.
"This is why we play," Wragge said. "That was our goal at the beginning of the season and we accomplished it. There's no one else I'd rather do it with than these girls."
Wragge played huge. She wound up with 18 points, 12 rebounds, three blocks and three steals. Lammers topped Concordia with 19 points (5-for-15 from the field; 9-for-13 from the free throw line) in 28 minutes. Junior guard Mary Janovich totaled 10 points and three assists, Dani Andersen dropped in nine points and Shelby Quinn added eight points and six assists. Concordia shot 40.6 percent (26-for-64) from the field.
Osthus led all players with 21 points, though she also committed nine of her team's 22 turnovers. Amber Bray (17), Erica Herrold (15) and Carr (13) also reached double figures in scoring for the Tigers (26-6), who clinched their national tournament bid with the conference tournament runner up claim. Dakota Wesleyan, which shot only 34.4 percent (22-for-64), outrebounded Concordia, 55-44.
The Bulldogs are set to make their 16th all-time appearance – ninth under Olson – at the national tournament. The NAIA will announce the national qualifying field and tournament bracket on Wednesday (March 1). The first round of action opens up on March 8. All 31 games of the event will take place at the Tyson Events Center in Sioux City, Iowa.