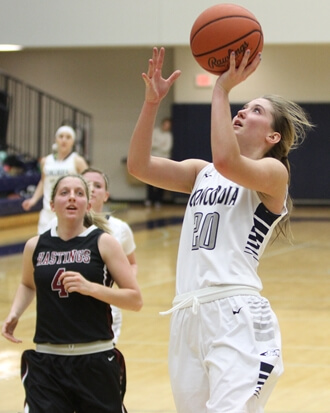 Bulldogs suffer 73-55 loss to CU-Ann Arbor in CIT Championship
CU-Ann Arbor pulled away for a 73-55 women's basketball win over Concordia in the championship game of the CIT on Saturday afternoon. It's the first CIT championship for CU-Ann Arbor, who improved to 16-8 with the win. The loss dropped the Bulldogs to 12-12 on the year.
The first half was a game of runs. The Bulldogs jumped out to a quick 9-3 advantage early in the contest and led by six points on multiple occasions in the first half. The host Cardinals responded, however, and took an eight point lead (27-19) with just over five minutes remaining in the half. The Bulldogs rallied and took a one point lead twice down the stretch in the first half. However, the Cardinals scored the last seven points of the half to take a 38-32 lead into halftime.
CU-Ann Arbor was 13-of-25 (52 percent) from the field and 9-of-10 at the foul line in the opening 20 minutes. The Bulldogs connected on 13-of-29 shots (44.8 percent) and were led by Katie Rich's 12 first half points.
The host Cardinals began to pull away early in the second half, using a 10-2 run to take a 48-34 lead. The Cardinals led by double figures for much of the rest of the game, as the Bulldogs could get no closer than nine on multiple occasions. The Bulldogs cut it to 64-55 with two minutes to play, but the Cardinals scored the final nine points of the game to secure the 73-55 victory.
The Bulldogs were just 19-of-55 from the field for the game for 34.5 percent. In the second half, Concordia was just 6-of-26 for 23.1 percent. The Bulldogs also struggled from behind the arc, hitting just 3-of-22 for 13.6 percent. The Bulldogs finished with 19 turnovers compared to just six assists.
Katie Rich (Tilden, Neb.) scored a team-best 16 points and added nine rebounds. Kristen Conahan (Omaha, Neb.) added 13 points, and Treva Nutter (Thedford, Neb.) had 10. Conahan and Rich were each named to the All-Tournament Team.
CU-Ann Arbor was led by Kortni Elsworth's 25 points and eight rebounds. Brittany Simmons added 18 points and seven rebounds off the bench for the Cardinals.
Concordia returns to GPAC play on February 5 at Hastings College.