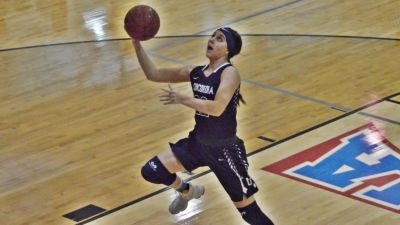 CHICAGO, Ill. – Coming off a run of seven-consecutive days without a game, the second-ranked Concordia University women's basketball team had to be careful not to overlook Thursday's opponent with another much-anticipated clash coming up on Friday. On day one in Chicago, the Bulldogs looked like a team starving for a return to the court. Concordia rolled up a 113-83 rout of Robert Morris University on Thursday afternoon (Dec.28).
Twelfth-year head coach Drew Olson's squad had not seen game action since its 82-75 win at Haskell Indian Nations University (Kan.) on Dec. 20. One of two undefeated teams left in NAIA Division II, the Bulldogs stand at 14-0 overall.
"I thought we played really well. We made some adjustments in our half-court defense that helped and made some adjustments in our press that helped," Olson said. "We brought really good focus into the game. Obviously it helps to shoot well. Part of that is that our kids were ready to go. It's a good sign to come off a break that well."
Concordia was utterly dominant for the first three quarters of Thursday's contest at the Saint Xavier University Holiday Classic. Sophomore MacKenzie Helman (game high six assists) opened up the scoring with a trey and the Bulldogs were never seriously threatened the rest of the way. A 3-point basket by Mary Janovich at the 2:21 mark of the opening quarter opened up a 35-8 spread. Off the bench, senior Brenleigh Daum fired off 16 shots and put up a game high 22 points in 17 minutes of action.
The Eagles (5-9) were yet another nonconference opponent overwhelmed by the Concordia press. Robert Morris committed 23 first half turnovers (33 for the game) while falling victim to the aggressiveness of the likes of Philly Lammers (six steals) and Helman (three thefts). The Eagles ended up with six double-figure scorers, but a good deal of their damage was done in the fourth quarter after the Bulldogs had constructed an insurmountable 46-point advantage. Concordia took the press off after halftime.
Three teammates joined Daum (9-for-16 from the floor) with 10 or more points: Janovich (14), Lammers (13) and Taryn Schuette (11). Lammers also grabbed 10 rebounds to go along with her six steals. Sydney Feller and Rebecca Higgins contributed eight points apiece in reserve roles while Dani Hoppes added eight points and three assists from the backcourt. Concordia outshot Robert Morris, 45.1 to 35.0 percent from the floor. The Bulldogs also knocked home 17 triples compared to just two 3-point field goals by the Eagles, who were paced by the 14 points from Champale Grays.
Now it's time to look forward to Friday's big showdown with top-ranked Saint Xavier (12-1), which demolished Goshen College (Ind.), 105-53, on Thursday. All games at the SXU Classic are being held at the Shannon Center in Chicago. The Cougars, spearheaded by 2016-17 national player of the year Kara Krolicki, ended Concordia's season this past March in the national semifinals in a game decided by a 91-83 final score.
The Bulldogs went 1-1 last season against teams with No. 1 national rankings. The victory came against then top-ranked Dakota Wesleyan on Dec. 3, 2016.
"I think both teams are looking forward to the game tomorrow," Olson said. "Both teams played really well today. I thought the two games were very similar. We both came out and shot really well, got up by 30-plus in the first half and kind of put it on cruise control in the second half."
Friday's game is set to tip off at 12 p.m. CT. Saint Xavier's live webcast can be seen HERE.