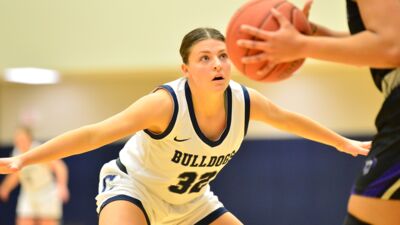 SEWARD, Neb. – There were moments on Friday (Nov. 4) when the Concordia University Women's Basketball team looked like a group playing its first game of the 2022-23 season. Ultimately, the tenacity of the pressure Bulldog defense got the best of visiting Bellevue University. Concordia pulled away for a 74-52 victory in its first of two games at the 23rd annual Cattle Classic. Taysha Rushton and the Bulldogs lived on their plus-19 turnover margin.
This marked the start of year 17 for Head Coach Drew Olson. The 12-time GPAC champion coach guides a program seeking to extend its run of 11 straight appearances at the national tournament. The 2022-23 squad has something to build upon after the victory.
"I think it was more of the jitters," Olson explained of the 8-0 deficit his team faced out of the gate. "We came out a little jittery and thankfully we settled down in the second half. I'm just really proud of how hard we played. Defensively, we were really good throughout the whole game. I thought offensively we were playing a little out of sorts and a little rushed. Part of that was Bellevue's pressure, but I felt like we settled down in the second half."
The patented "gnats at a picnic" press is back on for Concordia, which plucked 15 steals while being led by the ultra pesky Mackenzie Toomey (six steals). Toomey is part of an experienced and talented bunch of third-year players that includes Kendal Brigham, Sadie Powell and Taysha Rushton. While things took some time to click offensively, Brigham provided much-needed dead-eye shooting going 4-for-7 from long range. Brigham paced all players with 14 points
The Bulldogs recovered from the rough start and took a 32-28 lead to the break. Bellevue responded by taking a 38-36 lead midway through the third quarter. A trey by Brigham sparked a 19-7 run to close the period and put Concordia in the lead for good. In the post, sophomore Abby Heemstra and freshman Kristin Veiselmeyer supplied 10 points apiece. Kristin is the third Vieselmeyer sister to compete athletically as a Bulldog.
After shooting 30 percent (12-for-40) from the field in the first half, Concordia heated up to 50 percent (16-for-32) in the second half. All 10 Bullodgs who saw action registered in the scoring column. The headlining returner Rushton produced nine points, seven assists and four steals and committed only one turnover in 29 minutes. Now in a starting role, Abby Krieser added seven points, four rebounds and two steals. Impressively, the Bulldogs turned the ball over just five times (compared to 18 assists).
There's still room for improvement offensively. Lessons were learned while Concordia still managed to win by a 22-point margin. Said Olson, "We didn't really capitalize on them. We had a lot of forced turnovers, but we didn't really convert them into points. We need to keep working on that. Again, I love how hard we played and we're playing really well together. I hope it continues tomorrow."
The Bruins got a team high 13 points from Miranda Hennings. Bellevue shot just 31.4 percent (16-for-51) from the floor while slipping to 1-2 this season.
The Bulldogs will be right back at it on Saturday at the Cattle Classic and will take on Dakota State University (S.D.) at 2 p.m. CT. The Trojans were defeated in the event's first game on Friday, 85-78, by Briar Cliff. Dakota State was the first team outside of the preseason NAIA coaches' top 25 poll.