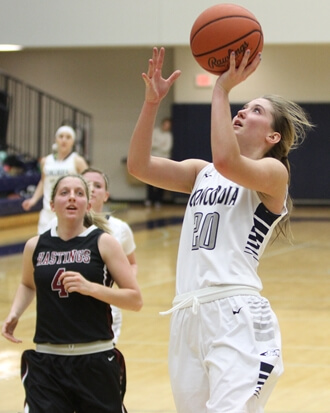 Bulldogs seek fourth CIT championship in last five years
The Concordia University women's basketball team opens play in the 2012 Concordia Invitational Tournament on Friday against CU-Wisconsin. Tip is scheduled for 1 p.m. CU-Chicago, this year's host school, will provide a live webcast as well as live stats for all tournament games.
Concordia is still the 5th-ranked team in the latest NAIA top 25 poll. The Bulldogs (20-2, 12-2 GPAC) have won seven straight games entering this weekend's tournament. Concordia, Nebraska has won three of the last four CIT championships on the women's side. Last year, the Bulldogs picked up a 90-50 win over Concordia-Chicago in the opening round before losing in the finals to Concordia-Ann Arbor.
Scouting CU-Wisconsin – The Falcons are 12-6 overall with a 12-2 mark in conference play. CU-Wisconsin brings a 4-game winning streak into CIT play. Four players score in double figures, led by Katie Luethe's 13.2 points per game. Tiffany Hendrickson and Kendall Kerns add 10.6 and 10.5 points per game, respectively, while Brittany Zietlow delivers 10 per game for the Falcons. CU-Wisconsin averages 62.7 points per game while allowing 56.9 points per game on the year.
Up next – A win over CU-Wisconsin would move the Bulldogs to Saturday's championship game at 5 p.m. A loss would put the Bulldogs in Saturday's consolation game at noon.