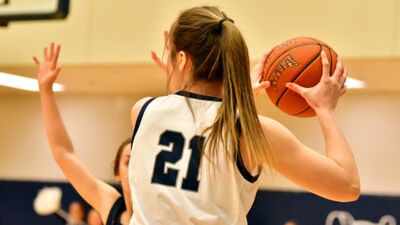 SEWARD, Neb. – As an appetizer to Thanksgiving, the Concordia University Women's Basketball team will welcome Jamestown to Friedrich Arena on Tuesday evening. Tipoff is slated for 5 p.m. CT instead of the typical 6 p.m. gametime on a weeknight. Head Coach Drew Olson's squad stands at 3-2 overall (1-2 GPAC) following a week that included an 84-59 home win over Midland and a 76-65 loss at No. 13 Dordt. The Bulldogs are 3-0 at home while the two defeats have come on the road against GPAC squads that are a combined 12-1 this season.
Tuesday, Nov. 22 vs. Jamestown (5-1, 3-0 GPAC), 5 p.m.
--Live Webcast/Stats | Max Country | Location: Friedrich Arena (Seward, Neb.)
By the numbers
· Each of Concordia's three home wins have come by double digit margins. The Bulldogs continued their series dominance over Midland last week while riding a backcourt that made plays on both ends of the floor. Mackenzie Toomey (17), Abby Krieser (14) and Taysha Rushton (12) all scored in double figures and contributed to a full-court press that made it difficult for the Warriors to beat the 10-second violation. Midland wound up with 24 turnovers, three of which came on Toomey steals. Concordia shot 48.4 percent (31-for-64) from the floor and drained 10 treys. A feel-good moment occurred late in the game when Mackenzie Koepke saw her first action since March 20, 2021. Koepke's first shot of the season went down for a 3-point basket. She missed all of last season due to injury.
· Dordt (7-0, 2-0 GPAC) may have graduated 2021-22 GPAC Player of the Year Ashtyn Veerbeek, but it still has a lot of weapons at its disposal. The key stretch in the game played at De Witt Gymnasium occurred in the third quarter when the Defenders pushed a six-point halftime lead to 13 (63-50). The Bulldogs managed to get back within seven (68-61) before going cold down the stretch. Kendal Brigham and Rushton paced Concordia in scoring with 15 points apiece while Sadie Powell added 11 points and seven rebounds. Toomey also posted eight points, six rebounds and three assists. Dordt led virtually the entire way while getting 18 points apiece from Macy Sievers and Janie Schoonhoven. The Defenders were also helped by 22 Bulldog turnovers.
· Koepke did not see action at Dordt as she is being brought along slowly. The Lincoln Lutheran High School alum is actually ahead of schedule in terms of when Olson expected her to make her season debut. This is Koepke's fifth season inside the program. She was a freshman on the 2018-19 team that won the NAIA Division II national championship. As a Bulldog, Koepke has scored 760 career points and has totaled 391 rebounds, 176 steals and 75 blocked shots in 103 games. Koepke's been named all-conference three times in her career: honorable mention twice and second team in 2019-20.
· As expected, the group of third-year players has set the tone for Concordia. From that class, four players are averaging in double figures (or close) in scoring: Rushton (16.6), Brigham (11.0), Toomey (10.4) and Powell (9.6). In the game at Briar Cliff, Rushton went past 1,000 career points. Her total currently rests at 1,042. The juniors are being leaned upon heavily in terms of minutes played with Rushton averaging 33.8 followed by Powell (26.4), Toomey (26.2) and Brigham (23.4).
· The Bulldogs will have to prove themselves this season, and Olson believes he has a squad capable of doing that. In the latest conference ratings, Concordia landed at No. 6. Four teams in the GPAC are currently ranked in the top 25: No. 7 Dakota Wesleyan, No. 12 Morningside, No. 13 Dordt and No. 25 Northwestern. In addition, Briar Cliff is receiving votes. From 2011-12 through 2020-21, the Bulldogs finished in the top 25 each season and were ranked No. 1 at the close of the 2018-19 and 2019-20 campaigns. Concordia is working on getting back to the national tournament for a 12th year in a row. Olson has led the program to 14 national tournament appearances.
The opponent
Jamestown has started hot in conference play with wins over College of Saint Mary, No. 7 Dakota Wesleyan and Midland. Head Coach Thad Sankey's squad is led by one of the GPAC's best players in returning First Team All-GPAC forward Hannah DeMars, who is averaging 23.0 points and 8.7 rebounds per game. Defensively, the Jimmies have been strong in limiting foes to 57.2 points per game and to 38.9 percent shooting. Jamestown was just outside the national tournament picture last season when it finished at 18-13 overall (11-11 GPAC). The Jimmies and Bulldogs split last season's two meetings with the home team winning in both cases. Sankey and Olson are good friends who were once teammates on the Concordia Men's Basketball team. Sankey also served one year as a graduate assistant on Olson's staff.
Next week
Following the week of Thanksgiving, the Bulldogs will be at No. 12 Morningside on Nov. 30 before hosting No. 25 Northwestern on Dec. 3.