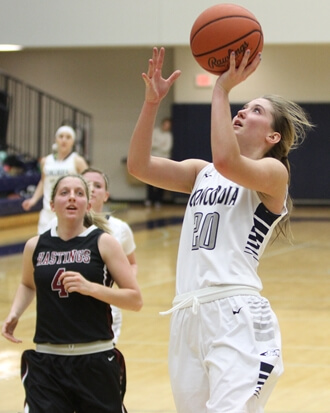 Bulldogs return to GPAC play Wednesday with top 20 matchup against Northwestern
The seventh-ranked Bulldog women's basketball team returns to conference play on Wednesday. Concordia travels to Northwestern College for a 6 p.m. matchup against the 20th-ranked Red Raiders. Concordia takes a 13-1 overall record with a 6-1 GPAC mark into Wednesday's contest. After a bit of a slow start, Northwestern has now won seven straight games to sit at 11-4 overall. The Raiders are 5-2 in conference play.
Concordia has five straight wins, including easy wins over Bethany College (82-43) and Johnson & Wales (103-70) this past weekend at the Johnson & Wales Holiday Tournament. The Bulldogs have four straight wins by double digits. Concordia now ranks first in the GPAC in scoring defense (57) and scoring margin (+22.8) while sitting second in the conference in scoring offense (79.8). Kristen Conahan (14.8 points per game) and Amber Kistler (14.4 points per game) currently rank in the top 10 in GPAC scoring. The duo has led the way for Concordia's offense, but depth has helped the Bulldogs to their impressive start. A total of six Bulldog players average at least six points per game so far this year.
Things won't be easy on Wednesday, as the defending national champs from Northwestern have played very well over the past several weeks. The Raiders opened the season at 4-4 with a 1-2 record in GPAC games. Since then, however, Northwestern has rattled off seven straight wins with six of those coming by double digits. Northwestern went 2-0 at the Pizza Ranch Classic Tournament this past weekend, picking up wins over Missouri Baptist College (103-60) and Buena Vista University (90-79). The Raiders are currently third in the GPAC in scoring offense (75.5) and scoring margin (+12.3), while ranking fifth in scoring defense (63.1). Concordia will have its hands full defensively, as Northwestern boasts two of the GPAC's top five scorers. Kami Kuhlmann averages over 19 points per game to lead the GPAC, while Kendra De Jong pours in over 17 points per game to sit fourth in the conference. De Jong also pulls down eight rebounds per game, which is good for third in the GPAC.
Northwestern won both meetings between the two schools last season. The Raiders picked up a 82-72 victory in the regular season and then held on for a 72-66 win over the Bulldogs in the GPAC Tournament.
There will be a live webcast provided on the Northwestern athletics website. The link can be found above. Concordia returns home on January 7 for a GPAC contest against Dordt College at 5 p.m.