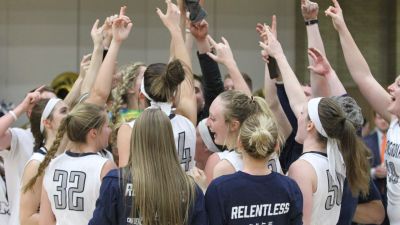 Big expectations surround Concordia women's basketball every year. You won't see head coach Drew Olson do cartwheels after merely reaching the national tournament, especially a year removed from an appearance in the national championship game.
But peal back the layers and plenty of reasons for gratification can be found. The Bulldogs entered the 2015-16 season having to replace one of the program's most accomplished senior classes complete with two All-Americans, including the national player of the year. Then Mary Janovich went down with a torn ACL at practice on Jan. 18.
In the midst of the GPAC meat grinder, a young team had to reinvent itself once again.
Says Olson, "I thought it was a successful season. Obviously our program standards are higher than just getting to the national tournament. We expect to do well and advance. All things considered, you look back and you realize it was a good season. We lost so many players from the previous season – big-time players. Then Mary Janovich goes down and it basically started that whole cycle all over (of learning to win together). To figure out how to win twice in the same season and still figure out how to get to the national tournament really showed a lot of toughness."
Freshman do not typically carry teams in the way that rookie Quinn Wragge did, but the Crofton native didn't seem to know any better. Over the final 14 games, all without Janovich, Wragge averaged 18.6 points per game in elevating herself to a level unprecedented for freshmen Bulldog women's basketball players. Before it fell in its final three contests of the season, Concordia leaned upon Wragge to lead the way to seven wins in an eight-game stretch that sewed up a national tournament bid.
Wragge, a first team all-conference selection and CIT MVP, dominated the team leaderboard, pacing Concordia in points (14.8), rebounds (6.6), steals (1.84), blocks (0.59), field goal percentage (.585) and minutes per game (27.1). In the GPAC era, no Bulldog has ever led the team in each of those categories. A member of three state championship teams at Crofton High School, Wragge was unafraid of the big stage. She put up 24 points and 10 rebounds in the heartbreaking 85-82 national tournament loss to Goshen College.
"I knew how good she could be," Olson said. "It was just a matter of getting her to realize it and having confidence in herself to be able to do those things. The injury to Mary forced her to come out a little bit earlier than I think she wanted to. She really took on a lot of the load for the team in terms of scoring, minutes and some of the little things. That's not easy to do as a freshman. Hopefully there's more to come from her."
We could go on about Wragge, but there's more to the story. Olson loves the fight and the heart consistently displayed by junior Shelby Quinn, who took over the role of starting point guard early in the year. Senior Becky Mueller again provided scoring punch while surpassing the 1,000-career point mark late in the year. Mueller served as a leading sharpshooter for a squad that knocked down nearly 10 3-point field goals per game. Brenleigh Daum topped the team with 62 triples.
There also were the emergences of players like junior Erin Vieselmeyer and sophomore Sydney Feller, both of whom got their first taste of varsity action this past season. They combined for 28 points at the national tournament. They showed flashes of brilliance and the upside to be even bigger contributors in 2016-17. Olson commended Vieselmeyer, a 6-foot low-post scorer, for her rapid improvement. The 10th-year head coach appreciated the effort of Devin Edwards (aka "Chubbs") so much that he bumped her into the starting lineup in January. Said Olson of Chubbs, "She's a total competitor and a great teammate. She never complained about her role."
When looking ahead, Olson can't wait to get Janovich back in the lineup. She was so highly-regarded and respected by league coaches that she earned second team all-conference accolades despite missing nine conference games. A tenacious defender, Janovich made huge contributions to the national runner-up team. Said Olson, "Mary was playing like an elite player (before the injury). I felt like she had about a seven, eight-game stretch where she was just dominant in all facets. She was being aggressive. She was the player that we knew she could be."
Janovich and Wragge will be the headlining returners for next season. They will be joined by an incoming recruiting class that, while not yet finalized, looks particularly strong. That class will include the likes of 5-foot-10 Philly Lammers, who enjoyed a big state tournament for Millard West, and Falls City Sacred Heart's Maggie Goltz, who stands 6-foot-1 and has the versatility to play any position on the court. Midland transfer guard Dani Andersen, who averaged 9.0 points for the Warriors in 2014-15, will also return to the court after sitting out this past season.
The cupboard will be well-stocked. Plus Olson believes his team will be in better position come this winter because of increased maturity and leadership growth among the returners. The Bulldogs want to get back to the national tournament – and they expect to win when they get there.
"I still think it's going to be interesting to see who wins some of the battles in the preseason," Olson said. "I think the biggest thing is we're not questioning who's leading the team. I feel like we grew up as a team this year. We had some immaturity throughout the year that won't happen next year. I think it will be a team with a little bit more sound foundation. I think it will be a little bit better situation for the kids coming in."