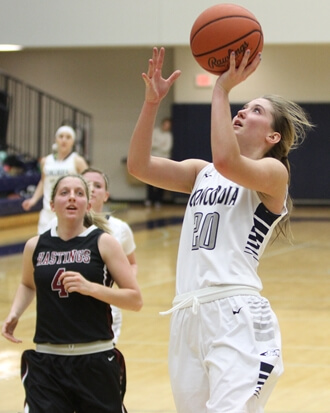 Bulldogs raise GPAC tournament title trophy, hand No. 1 Morningside its first loss
SIOUX CITY, Iowa – In a game with the intensity of a late-round national tournament affair, the third-ranked Concordia University women's basketball team meant business in its GPAC tournament championship game clash with undefeated and top-ranked Morningside. In front of an electric crowd at the Rosen Verdoorn Sports Center, the Bulldogs celebrated their second GPAC tournament title in four seasons with an 80-72 victory on Tuesday night.
Concordia (31-2) avenged its only two losses of the season while snapping the Mustangs' program record string of 39-consecutive home wins. Ninth-year head coach Drew Olson's squad will enter the school's 14th national tournament trip on a euphoric high.
"It was a great atmosphere. I'm really thankful for all of our fans that came out," Olson said. "I thought our fans were even louder than theirs at times. That was great for our kids.
"I was really proud of our team. We learned from some of the mistakes we made here about a week-and-a-half ago. We cut down on a lot of the turnovers and silly mistakes. Once we got solid defensively in the second half things got a little easier for us."
In game bigger than Mary Janovich's young collegiate career has ever seen, the freshman from Gretna, Neb., performed like a seasoned vet. Janovich knocked down 4 of 6 from 3-point range on the evening and played a starring role in a 12-1 second-half run that put Concordia up 60-49 midway through the stanza.
"Mary was fantastic," Olson said. "She just keeps getting better and better and more and more confident. The more aggressive she is the better she is."
As one would expect from the nation's top-ranked team, Morningside charged back, going on an 11-2 run to get back within two, 62-60, with 7:15 left. But even with Mustang star Ashlynn Muhl (13 points, 17 rebounds) controlling the paint, Concordia never relinquished the lead down the stretch.
Senior Kelsey Hizer, who also made a clutch triple in the semifinal win over No. 12 Hastings, splashed in a long ball with 2:25 left that initiated a 9-2 run that put the game out of reach. Hizer added two more points during the run and Bailey Morris grabbed a defensive board and raced to the other end for a layup that dashed any faint hopes Morningside had left.
Morris dribbled out the final seconds, hurled the ball into the air and bear-hugged the nearby Janovich. The team later celebrated on the court with a large traveling Bulldog student contingent and hoisted the program's fourth all-time GPAC tournament trophy.
In 30 minutes of action, Morris tallied 15 points, eight assists and two steals. Senior Tracy Peitz (11 points, six assists, five rebounds and four steals) and sophomore Becky Mueller (11 points) joined Janovich and Morris as Bulldogs with double figures. Hizer chipped in eight points while Peitz earned praise from Olson for her stellar second half.
Janovich and company went 11-for-22 from 3-point range, helping overcome Morningside's 45-28 advantage on the boards. The Mustangs managed to knock down only 4 of 17 from long distance. The GPAC regular-season champs got 15 points from Taylor Bahensky and 11 from Lexi Ackerman.
From the field, the Bulldogs shot 51.8 percent (29-for-56) compared to 44.3 percent (27-for-61) shooting by Morningside.
Head coach Jamie Sale's squad won the two regular-season meetings with Concordia by scores of 78-70 in Seward and 77-76 in Sioux City. The Mustangs reached the championship game by defeating both Dakota Wesleyan and Briar Cliff.
For Concordia, the third time proved to be the charm against fellow GPAC powerhouse Morningside.
"Yeah, you don't want to lose to them a third time, but I don't think that was our team's motivation as much as winning a conference championship," Olson said. "That group of seniors deserves that for all their work and all they have done. I'm really proud of them."
Concordia's three other GPAC tournament titles came in 2004, 2005 and 2012. Olson has now won two GPAC regular-season titles and two conference tournament championships in nine seasons. He will be making his seventh trip to the national tournament at the helm of the Bulldogs.
With their current national ranking of No. 3, the Bulldogs are expected to garner one of four No. 1 seeds in the national tournament bracket. The complete bracket is scheduled to be released at 7 p.m. CT on Wednesday. Check back on cune.edu/athletics shortly after. The national tournament will be held March 11-17 at the Tyson Events Center in Sioux City, Iowa.