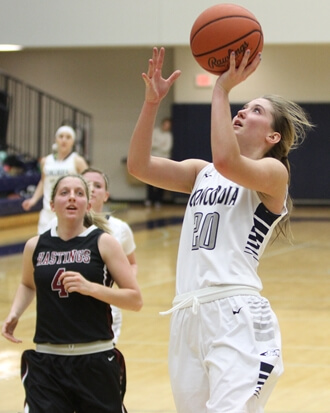 Bulldogs pluck Falcons on way to 25th CIT title
ANN ARBOR, Mich. – For the 24th time over the past 29 seasons, the Bulldog women's basketball team has captured the Concordia Invitational Tournament title. On Saturday evening third-ranked CUNE bludgeoned Concordia University-Wisconsin (NCAA Division III), 89-37, inside Cardinal Fieldhouse in Ann Arbor, Mich.
The program's 25th all-time CIT championship victory moved ninth-year head coach Drew Olson's squad to 23-1 overall and pushed its winning streak to 18. The Bulldogs remain unbeaten away from home (12-0).
"I thought today we played much better. I thought our focus was a little bit better," Olson said. "Defensively we were great, scrambling around making them play different than what they want to. They were never able to get into their half-court offense. Offensively, I was really proud with how we improved our spacing and ball movement."
That Bulldog pressure defense grounded the Falcon attack. CUW (15-5) managed to shoot just 22.0 percent while committing 28 turnovers a day after Concordia-Chicago gave it up 35 times in CUNE's Friday victory. In a sequence that summed up the night for the Falcons, freshman Mary Janovich poked the ball loose, only to turn it over, then steal the ball back and drop it off to senior Bailey Morris for two.
"We went on a huge run in our press," Morris said. "That's a huge emphasis for us every game – getting stops. I think our press really got to them. Then when we dropped back into half court we played great defense. Every single person who got onto the floor stepped up big time on defense."
That crazy few seconds was part of a 17-2 second half-opening Bulldog splurge that left CUW in the dust. CUNE stood out as the clear aggressor in a battle between two teams that sit near the top of their respective conferences. Not only did the Bulldogs play smothering defense, they owned the boards, 51-33.
After a slow start, Morris heated up and led the way with a game high 18 points on the way to becoming the Bulldogs' first back-to-back CIT MVP honoree since Whitney Stichka in 2008-09. The native of Clay Center, Neb., dropped three dimes and burned CUW with five thefts.
A Janovich layup on CUNE's very first possession initiated a 14-3 run to open the game. Sophomore Becky Mueller threw in a pair of high-arcing treys during the spurt that set the tone for a dominant championship performance. Mueller went for 12 of her 14 points in the opening 20 minutes, helping make up for limited minutes from Tracy Peitz, who picked up her third foul at the 11:48 mark of the first half.
Peitz came back to the floor in the second half and made all three of her field goal attempts for seven points, earning all-tournament recognition along with Morris. Janovich, a nuisance to the CUW backcourt all game, joined Morris and Mueller (seven rebounds, two blocks) in double figures with 10 points to go along with her five rebounds and three steals.
"It's hard for teams to guard us because we have so many different weapons," Morris said. "I just think that's what makes us really special."
Olson's six CIT titles rank as the second most all-time among Bulldog women's basketball coaches. Carl Everts guided his teams to seven CIT trophies between 1983 and 1992.
Having completed a stretch of three games in four days, the Bulldogs return to Walz Arena for their final two regular-season home games. Up next is a date with Nebraska Wesleyan (2-17, 0-14 GPAC) for a 6 p.m. tipoff on Wednesday. Concordia has won each of the last 15 meetings with the Prairie Wolves, who are winless in conference play.
CIT All-Tournament Team
MVP – Bailey Morris, CUNE
Morgan Jahnke, CUC
Michelle Murnen, CUAA
Brianna Wagner, CUW
Tracy Peitz, CUNE