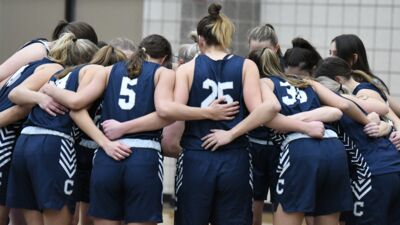 SEWARD, Neb. – In mirroring its finish from 2021-22, the Concordia University Women's Basketball program has been placed at No. 5 in the 2022-23 GPAC Women's Basketball Preseason Coaches' Poll. In the poll released on Thursday (Oct. 13), the Bulldogs picked up 83 points. Head Coach Drew Olson's Bulldogs concluded last season in a tie for fifth in the league standings at 13-9 in league play (16-14 overall).
Concordia enters the 2022-23 season having qualified for the national tournament in each of the past 11 years. From last season's team, the Bulldogs return four players who started at least 10 games: Abby Heemstra, Sadie Powell, Taysha Rushton and Mackenzie Toomey. In terms of accolades, Rushton is the most decorated. She's a two-time First Team All-GPAC honoree and is knocking on the door of 1,000 career points to begin this season.
In addition to the return of the bulk of their rotation from last season, the Bulldogs bring back Mackenzie Koepke, who sat out the entire 2021-22 campaign due to injury. Koepke is the last remaining link on the roster to the 2018-19 national championship team. Concordia will attempt to get back to the top of the GPAC standings, a perch it held down for four straight years from 2016-17 through 2019-20. Under Olson, the program has claimed a combined 12 GPAC titles (six regular season and six postseason).
The Bulldogs will tip off the 2022-23 season at the 23rd annual Cattle Classic (Nov. 4-5). As part of the event, Concordia will take on Bellevue University and Dakota State University (S.D.).
2022-23 GPAC Women's Basketball Preseason Coaches' Poll
(First-place votes in parentheses)
1. Morningside – 119 (10)
2. Dakota Wesleyan – 99 (1)
3. Dordt – 98 (1)
4. Northwestern – 97
5. Concordia – 83
6. Briar Cliff – 79
7. Jamestown – 61
8. Hastings – 50
9. Doane – 37
10. College of Saint Mary – 34
11. Midland – 24
12. Mount Marty – 11