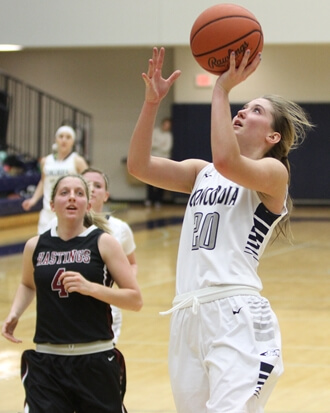 Bulldogs overcome shooting struggles for 20th-straight win
SEWARD, Neb. – Despite shooting only 29.6 percent from the field, the third-ranked Concordia University women's basketball team found another way to win. Freshman Mary Janovich provided the crucial 3-pointers and a big defensive play to help send the Bulldogs to the winner's circle for the 20th-straight time. Concordia prevailed over upset-minded Dakota Wesleyan, 76-71, inside Walz Arena on Saturday afternoon.
On a day in which the program celebrated senior day, ninth-year head coach Drew Olson's squad moved to 25-1 overall and 16-1 in conference action. The senior class owns a four-year record of 109-18, including 55-7 at home.
Having won 19 games by 10 or more points, Concordia found itself in an unfamiliar situation facing a deficit in the final minute on Saturday.
"I knew this was going to be a close contest. I'm just really proud of our group for sticking with it and making the plays at the end of the game," Olson said. "Bailey (Morris) came up big when we needed it."
The Bulldogs fell behind, 71-70, when Erica Herrold scored in the paint with :33 left on the clock. Playing her final regular-season home game of her career, Morris put Concordia back on top with a driving layup. The Bulldogs then iced it with Janovich's sprawling steal and a pair of Shelby Quinn free throws. For good measure, Janovich flipped up a bunny just before the buzzer sounded.
The latest matchup with Dakota Wesleyan (14-13, 7-10 GPAC) played out much differently than the meeting back on Dec. 19 in Mitchell when Concordia dominated the second half in a 100-70 victory. Over Saturday's first 20 minutes, the Bulldogs made only 10 of 41 (.244) shots from the field. The frustrating opening half included several missed layups.
On the other side, Dakota Wesleyan nearly pulled off the upset by shooting 50.9 percent from the floor. Katie Johnson (14 points) and Herrold (12 points) shot a combined 11-for-14.
"They shot a whole lot better than we did," Olson said. "Some of that's on us for not understanding who the shooters are and making the adjustments throughout the game. Like I said, I'm just really proud of our group and proud of our seniors."
Once again the key proved to be the Bulldogs' ability to harass the opposition with their pressure defense. Concordia forced 34 turnovers while committing only 11, paving the way for a 35-11 advantage in points off turnovers. Janovich also provided a big lift with 15 points (6-for-8 shooting) on an afternoon when many Bulldog standouts struggled with their jump shots.
Janovich drilled three critical second half threes in addition to the steal with Concordia clinging to a 72-71 lead in the final seconds.
"She was fantastic," Olson said. "She hit a couple big threes. She was phenomenal."
For the first time this season, Olson used a an all senior starting lineup of Kelsey Hizer, Ashley Kuntz, Morris, Jericca Pearson and Rachel Royuk. Morris turned in a game high 19 points (5-for-19 shooting) while adding five rebounds and four steals. Tracy Peitz came off the bench to record 10 points, six rebounds and five assists. Sophomore Becky Muller chipped in a dozen points.
Both Morris and Peitz were recognized prior to tipoff for their career achievements. Last week Morris became the program's all-time leading scorer by piling up 30 points in a win at Doane. Peitz reached 1,000 career points in the first meeting with Dakota Wesleyan.
The Bulldogs will now play each of their final four regular-season games away from Walz. The run of road games begins with Midland (10-16, 4-12 GPAC) at 6 p.m. on Wednesday. Concordia has won 13-straight meetings with the Warriors, who are 3-8 at home. The Bulldogs, 12-0 in road/neutral games, can equal the second longest winning streak (21) in program history with a victory on Wednesday.