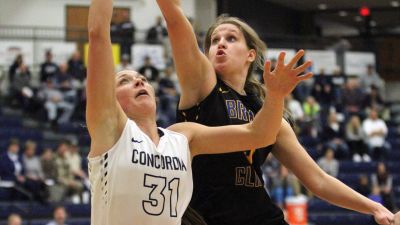 OMAHA, Neb. – For the 10th time in 12-year head coach Drew Olson's tenure, the Concordia University women's basketball team has reached the 20-win mark. Fittingly, the Bulldogs dominated in the way that so many of Olson's past teams have done. On Wednesday (Jan. 17), top-ranked Concordia completed a season sweep of College of Saint Mary with an 86-57 win in Omaha.
Owners of the No. 1 ranking for more than a week, Olson's squad is a perfect 20-0 overall and 12-0 in conference play. One of Olson's challenges this week, like many others, was keeping his team focused while going up against teams the Bulldogs have already beaten soundly earlier this season.
"Sometimes we feel like a broken record. We tell our kids to keep focused and make sure we respect our opponent," Olson said. "We go out there to play our best basketball regardless of who we're playing, but I know (earlier results) are in the back of their minds. Hopefully we keep that focus and maturity to just go out and play really hard. When we do that, good things happen regardless of who we play."
This one wasn't quite as lopsided as Concordia's 114-56 victory over the Flames (2-18, 1-11 GPAC) inside Walz Arena on Nov. 29. However, the Bulldogs used a 53-29 advantage on the boards and a hot start from Quinn Wragge (14 points, 10 rebounds) to build a healthy lead. Wragge and company led by 17 (45-28) at halftime and quickly extended the advantage with a runaway third quarter (26-6).
The final box score is reminiscent of many Concordia wins over the past two seasons. Wragge was the team's lone double-figure scorer, though all of her teammates contributed in some way. Thirteen Bulldogs registered in the scoring column, including the likes of Taylor Cockerill (nine points, seven rebounds), Mary Janovich (nine points, two steals), Brenleigh Daum (eight points), Philly Lammers (eight points, five rebounds) and Colby Duvel (seven points, 10 rebounds).
It was mostly a workmanlike night for Concordia, which hoisted 28 more shots from the field than did College of Saint Mary. The Bulldogs were just an okay 41.7 percent from the floor, but they did force 25 turnovers and never felt especially threatened with Wragge playing solidly and Duvel continuing her brilliance off the bench.
"I thought Quinn had a great start to the game and really got us going, especially with her hustle plays," Olson said. "Colby has just continued to play really good basketball. Her rebounding has been phenomenal with that second group."
Corryne Millett topped the Flames with 14 points off the bench. Also in a reserve role, A'leah Davis chipped in 11 points. College of Saint Mary standout Miranda Acuna was hounded and limited to two points on 1-for-6 shooting. She committed five turnovers.
Coming up on Saturday, the Bulldogs will return to Walz Arena, where they have won each of their last 29 games. Concordia and Dordt (9-12, 4-8 GPAC) will go head-to-head in a contest set to begin at 2 p.m. CT. In this season's first meeting between the two squads, the Bulldogs thrashed the Defenders, 101-55, in Sioux Center, Iowa, on Dec. 2.