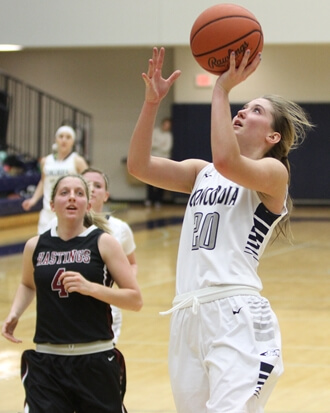 Bulldogs open season with 68-50 win over York College
No. 22 Concordia University opened the season with a 68-50 women's basketball win over York College on Halloween night in York. The Bulldogs jumped out to a 42-27 halftime lead in the win. The combination of Lori Laboda and Beth Kohmetscher stepped up big for Concordia in the victory. Laboda and Kohmetscher combined for 38 points on the night. York College dropped to 0-2 with the loss.
Laboda (Parker, Colo.) led all scorers in the first half with 17 points. Kohmetscher (Deweese, Neb.) chipped in with 14 points, as the Bulldogs took a 15-point lead into the halftime break.
York kept things close during the early stages of the second half. The Panthers hit four of their first six shots, while Concordia struggled from the field to open the half. York pulled within nine at 51-42 with just under 10 minutes remaining in the contest. However, Concordia answered with four straight with a made free throw by Tracy Peitz (Hartington, Neb .) and a 3-pointer by Kelsey Hizer (Parker, Colo.) to take a 55-42 lead. A 3-pointer by Kohmetscher increased the Bulldog lead to 58-43 with just over seven minutes to play in regulation. The Bulldog defense limited York to just seven points over the final seven minutes of the contest. Concordia led by as many as 24 (68-44) and settled for the 68-50 victory.
Both teams struggled from the field. Concordia was 19-of-68 overall for 28 percent, while York was 14-of-48 for 29 percent. The Bulldogs forced 22 York College turnovers, however, and Concordia held a 51-39 rebounding advantage in the victory.
Laboda finished with a game-high 21 points to go along with six rebounds. Kohmetscher finished with 17 points and hit five 3-pointers on the night. Peitz added a double-double of 11 points and 10 rebounds and also dished out a team-high four assists. Hizer finished just short of a double-double with nine points and nine rebounds.
Sara Lincoln scored 14 points for York College. No one else scored more than seven for the Panthers.
Concordia hosts Tabor College on November 5. Tip is scheduled for 4 pm at the Walz Human Performance Complex.