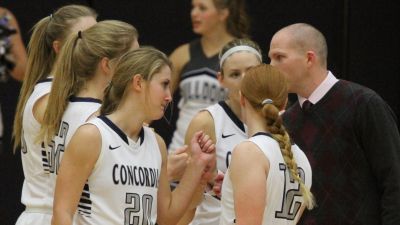 SEWARD, Neb. – The Concordia University women's basketball team is soaring up the NAIA Division II national rankings. That should be no surprise for anyone who's watched the Bulldogs play during their run of 13-straight victories. Eleventh-year head coach Drew Olson's squad went from No. 14 in the preseason top 25 to seventh two weeks ago to No. 2 in the national poll released on Tuesday (Dec. 13).
The No. 2 national ranking is the highest for the program since the 2014-15 squad finished its season as the national runner up and appeared second in the postseason coaches' poll. Concordia will carry its sparkling new ranking into Friday's GPAC game at Dordt (5-7, 0-6 GPAC). Tipoff from Sioux Center, Iowa, is slated for 5 p.m. CT.
Tyler Cavalli will also call the play-by-play for 104.9 Max Country radio.
Since its season-opening loss, Concordia has rarely been seriously challenged. It is coming off a dominant week in which it blew away two perennially dominant programs – Morningside and Northwestern. The Bulldogs are one of the nastiest defensive teams in the nation. Opponents are shooting only 36.2 percent from the field and are averaging 27.9 turnovers per game. The Mustangs, ranked ninth at the time of last week's game, turned it over 32 times during a contest in which Quinn Wragge swiped a career high eight steals.
The Bulldogs have been so dominant that only two of their 13 victories have come by single-digit margins. The large spreads have made for frequent substitutions. Twelve different players average more than 10 minutes per game. While playing only 17.9 minutes per game, freshman Philly Lammers is averaging 12.9 points and 5.9 rebounds and is shooting a national best 66.0 percent from the floor. In GPAC games only, junior Mary Janovich has paced the Bulldogs with 14.4 points per game.
Meanwhile, the Defenders have been struggling on the offensive end. They average 61.6 points and are shooting 37.2 percent from the field. Dordt won five of its six nonconference games that immediately preceded conference play. Though the Defenders have lost six in a row, they nearly upset then No. 15 Briar Cliff on Nov. 22 in what turned out to be a 60-59 loss. Concordia has triumphed in eight-straight meetings with Dordt.
Two ranked foes make up next week's schedule. On Monday (Dec. 19), the Bulldogs will play No. 17 Indiana Tech at 12:30 p.m. local time in Honolulu (4:30 p.m. CT) at St. Francis High School. Concordia will be back at the same location the next day to take on No. 8 College of the Ozarks at 4:30 p.m. CT. In preparation for these games, the Bulldogs will fly out of Nebraska on Saturday morning.
Projected lineups
Concordia: 13-1, 8-0 GPAC
G – Shelby Quinn: 7.6 ppg, 4.9 apg, 2.9 rpg, .837 ft%
G – Dani Andersen: 10.8 ppg, 1.7 spg, .406 fg%, .375 3-pt fg%
G – Mary Janovich: 11.7 ppg, 3.4 rpg, 3.0 spg, .530 fg%
F – Quinn Wragge: 10.8 ppg, 4.6 rpg, 2.3 spg, .566 fg%
F – Philly Lammers: 12.9 ppg, 5.9 rpg, 2.6 spg, .660 fg%
Dordt: 5-7, 0-6 GPAC
G – Kim Kroeze: 9.4 ppg, 5.2 rpg, 2.8 apg, .390 fg%
G – Kenzie Bousema: 6.7 ppg, 2.9 rpg, 1.3 spg, .417 fg%
G – Alissa Floen: 4.2 ppg, 2.3 rpg, 1.5 spg, .311 fg%
F – Paige Engbers: 9.6 ppg, 2.8 rpg, .365 fg%, .364 3-pt fg%
F – Shae Pollema: 8.5 ppg, 7.6 rpg, .438 fg%