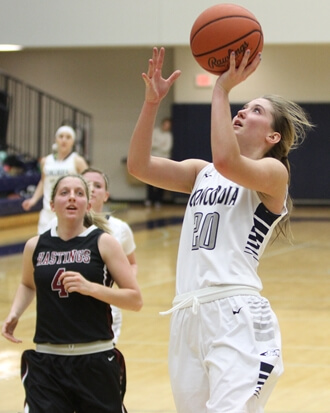 Bulldogs look to bounce back in 2011-12
Concordia University will look to bounce back in 2011-12 following a disappointing season a year ago. The Bulldogs were 15-17 overall and just 6-12 in GPAC play during the 2010-11 campaign. It was the first losing season since 2005-06. Concordia had advanced to the NAIA National Tournament in three straight seasons, but that streak ended last year. Despite the tough season a year ago, Coach Drew Olson is very optimistic about this year's squad.

"We have one of the more athletic teams we have ever had," remarked Olson, who enters his sixth year with a career record of 105-57. "We have several very good athletes, which should make for a good defensive team. So far, the team chemistry has been great."

Concordia returns a trio of starters in Katie Rich (Tilden, Neb.), Amber Kistler (Minatare, Neb.) and Kristen Conahan (Omaha, Neb.). However, the 2011-12 team will feature many new faces following the graduation of Kristin Miller and Kat Ommen as well as the transfer of guards Treva Nutter and Myhiah Dotzler.

"I would say our team is very balanced," added Olson. "We have a lot of returners from last season, but most of those players have only one year of experience. We have four or five players that are new that will impact our varsity team."

The trio of Rich, Kistler and Conahan was very successful last year, and those players will again be looked upon for offense, defense and leadership with such a young squad. Rich earned second team All-GPAC as well as honorable mention All-America honors last year after leading the team with 12.5 points and 6.7 rebounds per game. She added 60 assists and 55 steals for the Bulldogs last year. Kistler, who was an honorable mention All-GPAC selection a season ago, averaged 10.7 points and 4.2 rebounds per game in her first year at Concordia. The transfer from Western Nebraska Community College was second on the team in scoring, and she added 64 assists and 54 steals. Conahan took over the point guard duties late last season. She hit a team-best 77 3-pointers and was third on the team with 10.6 points per game. Conahan added 56 assists and led the team with 72 steals.

"When healthy, Katie provides a huge lift for our team," said Olson. "Kristen should be a big impact player for us, and Amber can be a great defender and shooter for our team."

The Bulldogs also return Lori Laboda (Parker, Colo.), Beth Kohmetscher (Deweese, Neb.), Dawn Martin (Rockford, Ill.), Katie Herther (Sioux Falls, S.D.) and Britney Birtell (Madison, Neb.), who all saw significant playing time a season ago. Laboda, Herther and Birtell will battle for playing time inside, while Kohmetscher and Martin will add depth at the guard position for the Bulldogs in 2011-12.

Coach Olson is also excited about his new batch of players including Tracy Peitz (Hartington, Neb.), Bailey Morris (Roseland, Neb.), Brittany Benson (Naples, Fla.), Kelsey Hizer (Parker, Colo.) and Jericca Pearson (Gibbon, Neb.). All of these players have a chance to work their way into the rotation and have an immediate impact on the 2011-12 squad.

"Tracy will be a great addition defensively on the wing," noted Olson. "Bailey will help us with ball handling and creating, and she is a very good defender. Brittany has a chance to be really good offensively, and she should help us inside. Kelsey can do a lot of things for us on both ends, and she's a great athlete. Jericca is also a great athlete, and she can really help us if she finds her role."

Inconsistency and struggles down the stretch in games plagued the Bulldogs last year. Of their 17 losses, 10 came by 10 points or less, and six came by five points or less. "We hope to be more efficient offensively this year," remarked Olson. "We also need better execution late in games."

The GPAC will again be loaded with talent. Concordia was selected fourth in the Preseason Coaches' Poll. Northwestern College, the defending National Champion, was picked to win the conference, while Briar Cliff and Morningside College tied for second just in front of Concordia.

"There are a lot of teams in this conference that should be pretty good," commented Olson. "We could be pretty good as well. Hopefully we can get back to where this program belongs, at the National Tournament."

Concordia opens the season at York College on October 31.