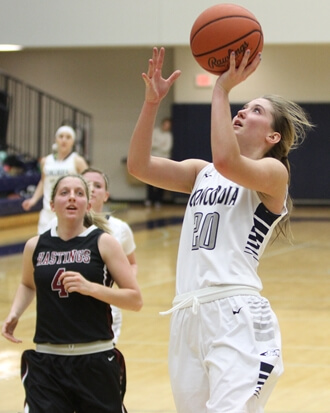 Bulldogs land familiar top-10 preseason national ranking
NAIA Division II WBB top 25 poll
SEWARD, Neb. – Until checking in at No. 13 in last season's postseason poll, the Concordia University women's basketball program enjoyed a streak of 37-straight top-10 national ratings. Head coach Drew Olson's Bulldogs are back in the nation's top 10 with the release Tuesday of the NAIA Division II Women's Basketball Coaches' Preseason Top 25 Poll that places Concordia at No. 9.
Tuesday's announcement marks the 40th-consecutive NAIA Division II poll that has included the Bulldogs, who have been part of every ranking since the beginning of the 2011-12 season. The senior class, led by All-Americans Bailey Morris and Tracy Peitz, has played for a ranked Concordia squad in every game since arriving in Seward. During that stretch, Concordia has held down a top-five spot in 18 rankings, including four-straight No. 1 appearances to begin the 2012-13 season.
In Olson's first eight seasons, Concordia has finished inside the top 25 five times, including four top-10 final rankings. The team's highest final ranking under Olson was a No. 3 spot following a 34-3 record and national semifinal appearance in 2011-12. This year marks the seventh-straight that the Bulldogs have appeared in the preseason top 25 poll.
All-time, Concordia has been ranked No. 1 a total of 13 times. The 2002-03 squad, coached by Todd Voss and recently inducted into the school's hall of fame, spent nine-straight polls at No. 1 from Jan. 7 through the end of the season.
In the GPAC preseason coaches' poll released on Oct. 21, the Bulldogs were picked to tie Hastings for second behind league favorite Morningside. In the national poll released Tuesday, four GPAC teams received top 25 mention: No. 2 Morningside, No. 5 Hastings, No. 9 Concordia and No. 15 Northwestern. Both Midland and Briar Cliff were listed under "others receiving votes."
Preseason top 25 rankings under Olson
2014-15: 9
2013-14: 5
2012-13: 1
2011-12: 22
2010-11: 11
2009-10: 22
2008-09: 7
2007-08: NR
2006-07: NR
Final end of season top 25 rankings under Olson
2014-15: ?
2013-14: 13
2012-13: 9
2011-12: 3
2010-11: NR
2009-10: NR
2008-09: 8
2007-08: 10
2006-07: NR